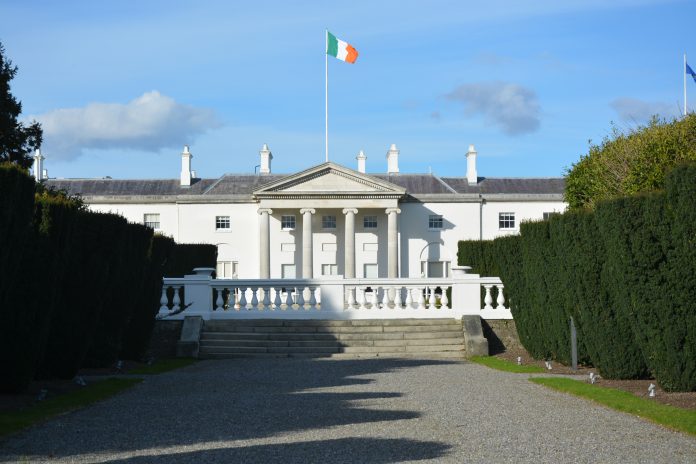 Ordinary citizens are challenging legislation passed by the Dáil last week. The legislation transfers a database of 60,000 records from Ireland's notorious mother and baby homes to Tusla.
The data was gathered by a commission of investigation into the homes. Under the 2004 Commissions of Investigation Act any of the commission's records must be sealed for 30 years. The sealing of the records has caused despair and outrage throughout the country. Victims of the mother and baby home system are especially insulted and questions are being raised about who is being protected by the sealing of the records.
A protest took place outside Áras an Uachtaráin at the weekend as President Michael D Higgins prepared to sign the legislation. It's reported that death threats were issued against the President. An Garda Síochána is investigating. The President's role is mostly ceremonial. However, the President can, if he fears a Bill may be unconstitutional, refer it on.
If the President had feared that the Bill might be unconstitutional, he would have been obliged to convene the Council of State and seek its opinion. If the Council of State agrees that a Bill may be unconstitutional, the President can then refer the Bill for judgement by the Supreme Court. This is where the problem would arise. If the Supreme Court decides that legislation is constitutional, that legislation cannot be challenged further in court. In a statement issued by Áras an Uachtaráin, the President explained that his decision to sign the legislation leaves it open to any citizen to challenge the Bill.
Opposition TDs and mother and baby home survivors say that the legislation should have been delayed for further discussion. Ruth Coppinger, formerly a Socialist Party TD, was one of the organisers of the protest in the Phoenix Park. Ms Coppinger said that she welcomed the President's comments but that the campaign to stop the sealing of the records would continue until the matter was resolved.
A petition started by Aitheantas an adoptees advocacy groups has garnered almost 200,000 signatures in a matter of days.
"For the first time the Irish people can see for themselves the callousness with which the Irish State has treated Women and Children & survivors who came through Mother and Baby Homes, Baby Homes, industrial schools who are denied access to their own testimony, files and records – this needs to stop," the petition says.
Minister for Children Roderic O'Connor says that the legislation signed by the President does not seal the records for 30 years. It is the 2004 Act that does that. He said, "we need to fix this problem and I am absolutely committed" to doing this. Further, he said that denying people access to their own personal history and records was no longer "morally feasible".
The petition to 'Repeal the Seal' can be viewed here. https://my.uplift.ie/petitions/repeal-the-seal-open-the-archive