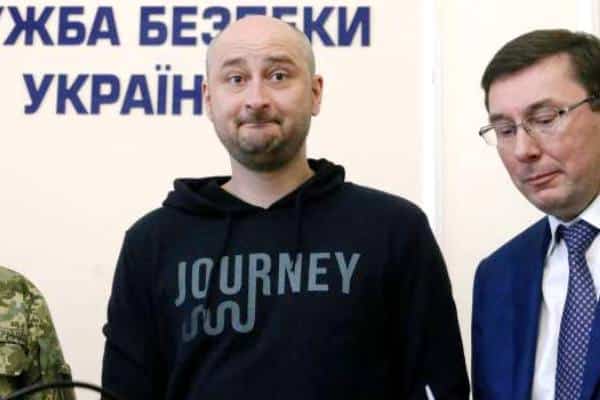 A Russian journalist who was reportedly murdered in Kiev has reappeared – alive – on TV in Ukraine.
It WAS believed Arkady Babchenko, a critic of Vladimir Putin, had been shot dead at his flat in Kiev last night.
At an unusual press conference, the chief of Ukraine's security services claimed they had faked the killing of Arkady Babchenko to foil an alleged, planned hit by Russia's secret services.
Last year, Mr Babchenko had moved to Kiev after receiving death threats in Moscow.
The head of Ukraine's security services confirmed that Mr Babchenko's faked murder — which had been condemned internationally — had been a set-up that enabled police to catch the hitman and the person who ordered the attack. Officials said they spent two months preparing the stunt.
The secrecy was such that Mr Babchenko did not tell his wife Olga, or their six adopted children.
On Tuesday, police had initially claimed that Mr Babchenko's wife found her husband bleeding at their home in Kiev. She called an ambulance, but he died on the way to hospital!!!
After it was revealed that Mr Babchenko was, in fact, alive, Maria Zakharova, a Russian foreign ministry spokeswoman, welcomed the news, while pointing out that Ukraine has not solved the three other killings.
"It is the best possible news. If only it could always be so," she wrote on Facebook.

"It is obvious they did this to make propaganda out of it.
The Financial Times posted the video footage which left journalists and those in attendance gasping.
https://www.youtube.com/watch?v=XFwC9G6-wqA
Courtesy (©) Financial Times