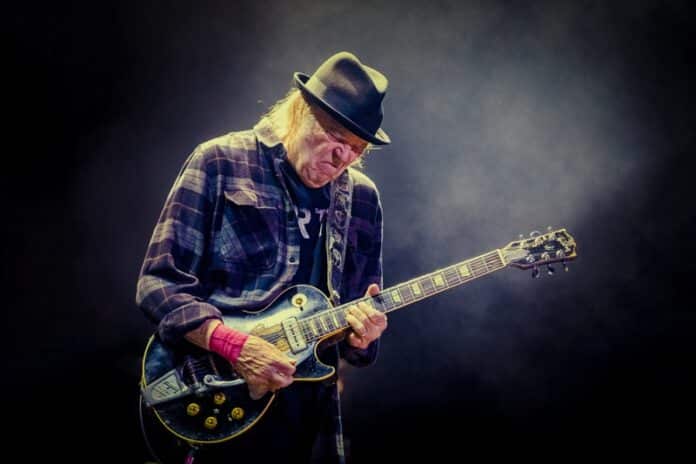 Neil Young has returned to his home town to perform 'Comes A Time' in an empty theatre in Omemee, Ontario.
On his archive website, Young wrote "Coronation Hall in Omemee, Ontario, is a wonderful old theatre. It holds memories of my family, all together in that little town. My dad played Coronation Hall once in a local show as my mother, my brother, and I sat in the audience."
"I was uncharacteristically nervous that night in 2017 playing Coronation Hall by myself for the first time and streaming to the world. Hometown is a Neil Young Archives tradition, showing every year, right here through the holidays."
He went on to add "I know this time of year is going to be hard for a lot of us as we long to be with our loved ones. Our hearts go out to all of you. We send much love and a Coronation Hall quarantine 'Comes a Time'."
You can watch the performance here.
Since the pandemic started, Neil Young has released a plethora of new releases and has recently made his archives free for anyone to enjoy.
In a statement released this month, he said "If you are locked down, we are here for you with hours of listening and cruising around through the years in movies. We want you to enjoy what we have to share at NYA… It's my music and our lives. Peace."
With Ireland in lockdown until January 12, spending some time over Christmas diving into Neil Young's archives may well be worth your while. There is some terrific material hosted on his archive website, including a cover of Bob Dylan's, 'The Times They Are A-Changin'.
Neil Young recently dropped his lawsuit against President Donald Trump. You can read Radio Nova's report on it here.