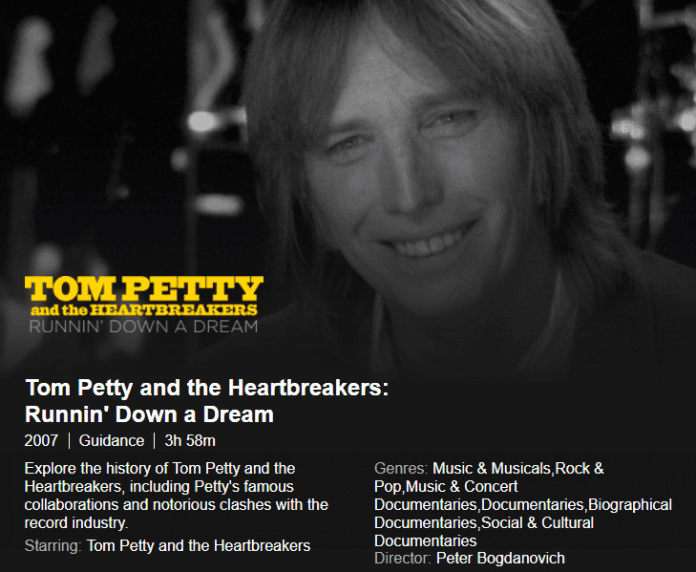 This week we sadly lost another rock legend – Tom Petty, but tonight with Netflix you can watch him and a host of music icons including David Bowie, Jimi Hendrix, Kurt Cobain and Jimi Hendrix in a variety of documentaries celebrating their lives, their music and hear stories from friends and family who knew them best.
Pop some corn and get comfy on the couch with 8 of our favourites on Netflix now:
Tom Petty & The Heart Breakers – Runnin' Down a Dream
Explore the history of Tom Petty and The Heartbreakers including Petty's famous collaborations and notorious clashes with the record industry.
Bowie : The Man Who Changed The World
Experience an inside look at David Bowie's incredible influence on music, art and culture via interviews with some of the people who knew him best
George Harrison : Living the Material World
Director Martin Scorsese profiles former Beatle George Harrison in this reverent portrait that mixes interviews and archival footage
Janis Joplin – Little Girl Blue
In this portrait 1960's rock legend Janis Joplin, private letters and interviews with family, friends and fellow musicians reveal a fragile soul
Vintage concert footage, personal artefact and his intimate musings reveal the private side of the life and career of rock guitar god Jimi Hendrix.
Explore five key years from the extensive career of the ever-evolving Rock provocateur David Bowie, drawing from his personal archives.
This film charts Nirvana's Kurt Cobain rise to fame, his drug addled romance with Courtney Love, and the conspiracy theories surrounding his death.
And Marty Miller's personal favourite:
This absorbing documentary profiles session musicians the Wrecking Crew, who provided backup instrumentals for numerous popular bands in the 1960s.