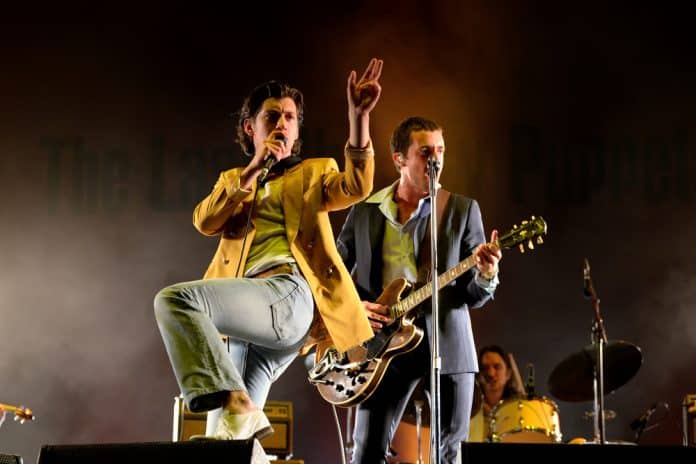 It's been at least three years since Arctic Monkeys frontman Alex Turner announced that the bands were 'going to leave things for a while'. That was following their headline sets at the Reading & Leeds Festival in 2014. With the confirmation of a string of live dates, fans are eager for a follow up to AM, the biggest selling vinyl album of the decade so far.
In a recent interview, bassist Nick O'Malley said the new album should be out this year, 'if it isn't, we've got problems'. According to The Ride magazine,
'recording began on the eagerly anticipated sixth album, started at a secret location in September. The new album will be out [in 2018]'
The exact location has been disputed with unconfirmed rumours that recording had actually started in December in their hometown of Sheffield.  Or that the band were in L.A where the previous album had been produced with the help of Josh Homme.
One fan reportedly met Alex Turner who told him that the first single from the album would be coming 'soon'.
Here's all the Arctic Monkeys tour dates so far,
Columbia Halle, Berlin (May 22)*
Cavea, Rome (May 26)*
Zentih, Paris (May 29)*
Primavera Sound, Spain (June 2)
Medidlanum Forum, Milan (June 4)*
Best Kept Secret, Netherlands (June 8)
Firefly Festival, Delaware, US (June 14-17)
Southside Festival, Germany (June 22-24)
Hurricane Festival, Germany (June 22-24)
Mitsubishi Electric Halle, Dusseldorf (June 26)*
Royal Arena, Copenhagen (June 27)*
TRSNMT, Scotland (July 1)
Open'er, Poland (July 4)
Rockwave Festival, Greece (July 6)
Rock Werchter, Belgium (July 8)
NOS Alive, Portugal (July 12)
Madcool Festival, Spain (July 13)
More 2018 world tour dates are expected to be announced.
Last month, Arctic Monkeys sent an email out to fans asking them to update information for their newsletter 'in advance of forthcoming important information regarding official band announcements & mailing list ticket initiatives.'