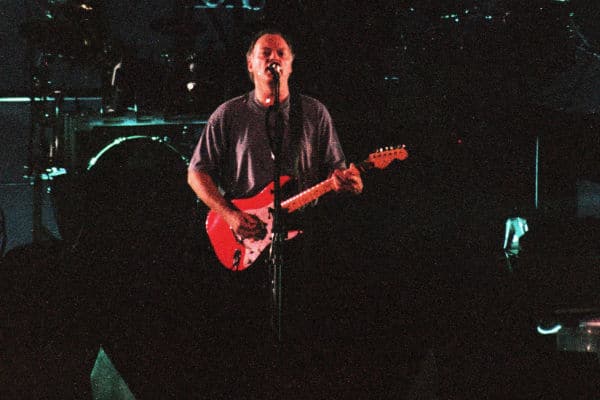 Would you like to listen to the article instead of reading it?
A new book on the life of Pink Floyd's David Gilmour is to be published in the Summer.
The book Behind The Wall, will arrive on May 24, and will be published by Ginger Gilmour, David's first wife via New Haven Publishing.
Having first met backstage at a Pink Floyd concert in 1971, the couple married in 1975 and had four children together. After the marriage ended, David Gilmour subsequently married Polly Sampson in 1994.
"a unique insight"
In the book, Virginia "Ginger" Gilmour will speak about her marriage to David, along with life with Pink Floyd in the 1970s.
'Behind The Wall' has been described by New Haven Publishing as "a unique insight into her relationship with David, Pink Floyd and the dynamics between the band members at the height of their fame". 
They also added, "This book includes many private photographs of her family and Pink Floyd on many of the tours she attended and at their homes". 
Ginger Gilmour also stated, "I questioned whether there was life after David Gilmour when he left. But it was the sound of my children's laughter in the garden that showed me the way". 
Gilmour v Waters
It has been very well publicised that David Gilmour has endured a rocky relationship with former bandmate Roger Waters.
Back in February, Roger Waters also threatened legal action against Gilmour's current wife Polly Samson.
Samson had previously branded Waters with words like "misogynist" and "anti semetic", prompting Waters to threaten legal action against her.
"Sadly @rogerwaters, you are antisemitic to your rotten core. Also a Putin apologist and a lying, thieving, hypocritical, tax-avoiding, lip-synching,misogynistic, sick-with-envy, megalomaniac. Enough of your nonsense", Samson tweeted.
Waters released this statement in response, "Roger Waters is aware of the incendiary and wildly inaccurate comments made about him on Twitter by Polly Samson which he refutes entirely. He is currently taking advice as to his position".
More on this from Nova here.
Roger Waters' outspoken political views also saw his upcoming gig at Frankfurt called off by council officials. A petition was later set up calling for the decision to be reversed. More on this here.