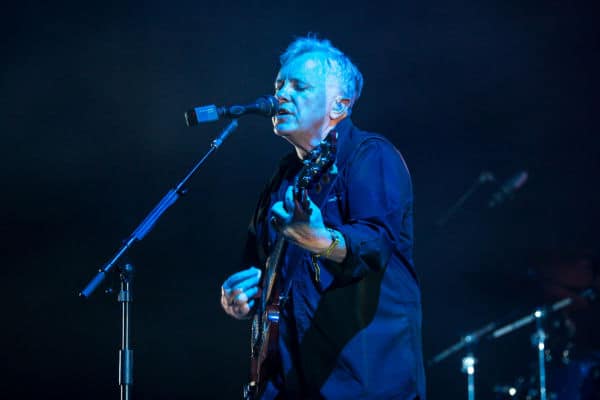 New Order have launched a new range of special merchandise, marking the 40th anniversary of their track 'Blue Monday'. 
The new merchandise will include a hoodie, two t shirts, a long sleeved t-shirt, numbered lithograph, along with a pin badge.
You can also get your hands on a vinyl copy of this classic song from £14.99.
New Order confirmed this news via their official Instagram account. Check that out for yourselves here. Find out more information from the band's website here.
New Order Selling Off Artefacts For Charity
In June 2021, New Order frontman Peter Hook had announced plans to auction off several artefacts for charity.
The auction include some vinyl artefacts such as tapes, CDs, test pressings and artwork. While some items came from Peter Hook's time at Joy Division, most items are from New Order.
Hook also announced plans to sell some of his treasured possessions such as an "Overwater Bass Guitar".
Some guitars being auctioned off were also used for classic New Order tracks, such as 'Blue Monday'. More on this from Nova here.
"olive branch"
Last month, Peter Hook said in a recent interview that he hopes that New Order and Joy Division's joint Rock and Roll Hall of Fame nomination might restore some peace between the two bands.
Hook co founded New Order in 1980, having initially co founded Joy Division in 1976.
What followed was decades of dispuites, arguments and lawsuits, which led to a row over royalties between Hook, and bandmates Steve Morris and Bernard Summer.
"We still haven't spoken, personally in 11 years. We're still fighting hammer and tong, tooth and nail… I think we're going for the record for the longest group fallout in history. It's very tragic", Hook admitted.
He added, "It will be a difficult awards ceremony if we get there, but as my wife said we've got to rise above these things… and be nice and be courteous and think the best".
"Maybe this is the olive branch that we may need to end the injustices that were done with New Order in the end. It's a very strange position to be in but, y'know, we're not the first group that's been ostracised by each other, and we won't be the last". 
More on this here.