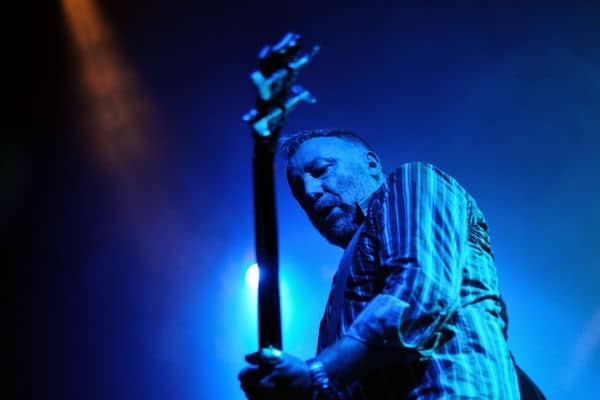 Peter Hook feels that New Order and Joy Division's joint nomination for a Rock & Roll Hall of Fame induction, could be the "olive branch" needed to "end all the injustices" between the bandmates.
Having formed Joy Division alongside guitarist/keyboardist Bernard Summer, vocalist Ian Curtis and drummer Stephen Morris in 1976, Peter Hook subsequently co founded New Order following Curtis' death in 1980.
Such "injustices" refer to a decade ago when Morris and Summer reformed New Order without Hook in 2011. The band also included Keyboardist/guitarist Gillian Gilbert.
A lawsuit also followed, following a row over royalties, which was eventually settled out of court.
"olive branch"
Speaking on this rocky road, Peter Hook has revealed that the bandmates have still not spoken to each other in 11 years.
However, he is hopeful that this joint nomination will go some way to mending fences.
"We still haven't spoken, personally in 11 years. We're still fighting hammer and tong, tooth and nail… I think we're going for the record for the longest group fallout in history. It's very tragic", Hook admitted.
He continued, "It will be a difficult awards ceremony if we get there, but as my wife said we've got to rise above these things… and be nice and be courteous and think the best".
"Maybe this is the olive branch that we may need to end the injustices that were done with New Order in the end. It's a very strange position to be in but, y'know, we're not the first group that's been ostracised by each other, and we won't be the last". 
"rooting for us"
Elsewhere, Peter Hook spoke of his delight to be nominated for this induction.
"To be honest with you, we were always against this sort of thing when we started", he said.
"It was the old punk thing – we hope we die before we get old and destroy all the old musicians, etc. etc. and what rubbish awards ceremonies are. Then all of a sudden you get one, and as you get older you realise… yeah, it's a wonderful thing. I'm humbled, I really am. It's nice, and it's fun to be appreciated".
"I will be rooting for us. Ever since we
"It feels OK to me," he added. "It was an odd thing. Joy Division was such a wonderful, powerful entity, and it was so sad the way it ended. But the three of us – Bernie, Stephen and I – got real strength from starting New Order together.
"We started [Joy Division] after seeing the Sex Pistols, and we've been banging our heads against walls and doors and kicking them down musically since then. We were always the square peg in a round hole as Joy Division and very much a square peg in a round hole as New Order. [The Rock Hall] is a hell of an accolade, but my God, I think either band has earned it. 
Hook also added that they "are definitely up there without a shadow of a doubt."
Joy Division and New Order have been nominated alongside a star studded line up of nominees for the Rock & Roll Hall of Fame. The inductees will be announced in May.