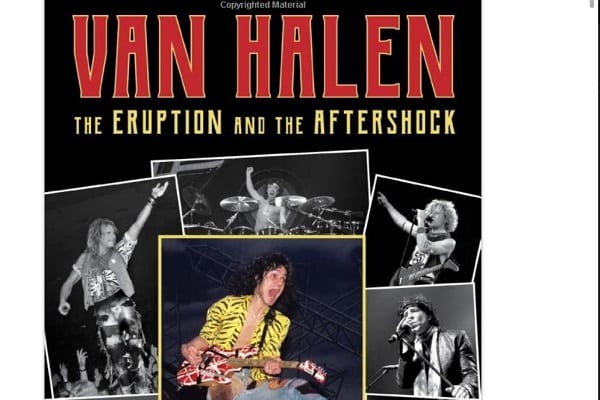 A new book telling the epic story of one of America's greatest bands Van Halen is available on October 1. See here.
Backbeat Books have announced "Van Halen: The Eruption and the Aftershock" will be made available in multiple formats.
It is fair to say that the band have weathered one of the most dramatic soap operas in rock history which would also bring them into the fabric of every musician who heard them.
They also have had their fair share of unrivaled live shows that have wowed and stunned audiences worldwide.
Van Halen: The Eruption And The Aftershock
The book also features interviews from fans, artists and insiders who witnessed the band's rise to the top.
This includes contributions from Velvet Revolver, Alice In Chains, Black Sabbath, Stryder, Ratt and Pantera. The book will also feature previously unseen photos and unpublished interviews with the band members Sam Hagar, Gary Cherone and Michael Anthony.
"This book has been a passion project from the beginning, and you'll be hard pressed to find another writer who has covered Van Halen so comprehensively over the years and with such reverence", says the book's writer Michael Christopher.
He also added, "But after the passing of Eddie, the news cycle eventually moved on. As it says in the introduction, I wasn't ready to, and felt like there was still much to say, not just from myself, but the fans, musicians, and so, so many more who have been affected by Van Halen". 
Michael Christopher has previously written "Depeche Mode FAQ: All That's Left to Know About the World's Finest Synth-Pop Band".
What does the book examine?
Michael Christopher's book will explore the following Van Halen moments.
The arrest of David Lee Roth on the "Van Halen II" tour
Oakland 1981 and what footage actually exists from the fabled shows
How close Roth cut making it to the US Festival after falling ill in the Amazon jungle
What role VAN HALEN played in the 1985 PMRC hearings
The strangely ignored first public appearance of "VAN HAGAR"
Why the 2007 Rock And Roll Hall Of Fame induction fell apart
Back in July, Sammy Hagar had previously apologised for mentioning the late Eddie Van Halen's drinking issues in his autobiography. More on that here.