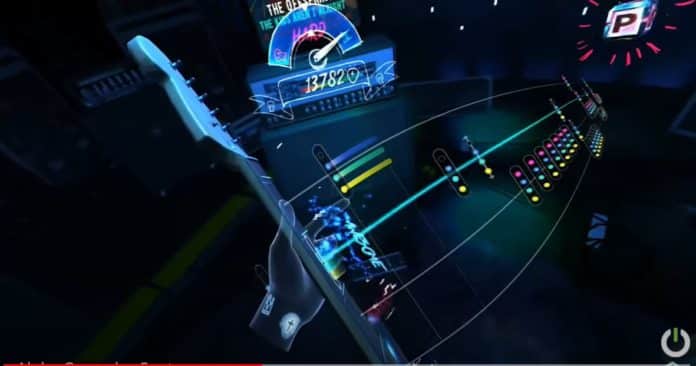 Virtual reality studio Anotherway is to give fans the opportunity to put their guitar playing abilities to the test with this new virtual reality game, Unplugged Air Guitar.
You can check out the trailer for this game below.
This comes as the world stood up and took notice of Brazilian guitarist Johnatha Bastos who plays the guitar with his feet. More on that here.
Unplugged Air Guitar aims to make the guitar-playing experience a reality, without needing an actual guitar. All you need are your hands, a VR headset and guitar shredding skills. It also resembles previous games like Rockband and Guitar Hero.
Handtracking technology will also be used instead of a guitar. This technology will also be able to monitor your movements on the imaginary guitar. Enjoy playing your favorite tunes with just your hands!
The game contains a collection of guitar amps and electric guitars, with orange guitars to also make an appearance.
"Really amazing" game
 "Unplugged is a VR music game that allows you to play air guitar and feel like a rockstar using hand-tracking technology", said Anotherway co-founder Ricardo Acosta.
"It is really amazing to think about this last year because at the beginning we were thinking really small", he continued. "We have bands in the soundtrack that we've always loved, like The Offspring".
"We've made huge progress on the gameplay over the last few months", Acosta added. "Now we have several different modes, power-ups, mini-games, crowd interaction and much more". 
Unplugged's producer Marcus Henderson also added, "Strap on your headset and get yourself on stage. You'll be able to pick from your choice of guitars and amps to help you power yourself through this incredible rock journey that is waiting for you".
The game's trailer also contains a taster for what fans can expect. It includes someone playing the the game, plucking the imaginary guitar to the Offspring's track The Kids Aren't Alright.
"We have famous music, an amazing team and we are putting all our hearts into the game so we can create a real love-letter to rock", Acosta said.