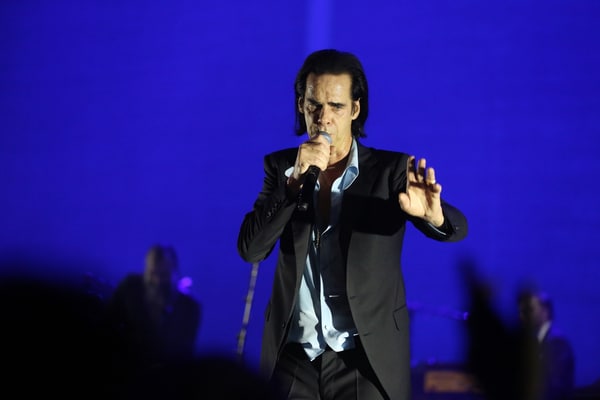 Nick Cave is to release a limited edition vinyl record of seven psalms.
Collaborating with Warren Ellis, this record contains seven word pieces which Cave has set to music.
The record will also contain a 12 minute instrumental track, produced by Cave and Luis Almau. It was also recorded during the Carnage album sessions.
"small, sacred songs"
Explaining the release, Nick Cave revealed that he wrote these pslams or "small, sacred songs" during lockdown.
"While in lockdown I wrote a number of psalms, or small, sacred songs—one a day for a week. The seven psalms are presented as one long meditation—on faith, rage, love, grief, mercy, sex and praise", he said.
"A veiled, contemplative offering borne of an uncertain time. I hope you like it".
These psalms will explore "faith, rage, love, grief, mercy, sex and praise", in a special vinyl record, which will arrive on June 17.
The record will also be released on Cave's online store, Cave Things. This was launched in 2020 and will also be available in record shops worldwide.
Cave's record evokes the cover of a hymn or prayer book, printed on embossed petrol blue with a jewel like title. It will also include a crucifix rendered in metallic gold.
Fans who purchase this record via the online store Cave Things will also receive a Psalms Prayer Card.
The tracklist for the Nick Cave Seven Psalms is as follows.
Side A
1. How Long Have I Waited?
2. Have Mercy On Me
3. I Have Trembled My Way Deep
4. I Have Wandered All My Unending Days
5. Splendour, Glorious Splendour
6. Such Things Should Never Happen
7. I Come Alone And To You
Side B
1. Psalm Instrumental
Check this out below.
Nick Cave Cancels Russian And Ukranian Shows
Las month, Nick Cave also confirmed that he had cancelled upcoming shows at Russia and Ukraine due to the ongoing conflict between the two countries
Along with his band the Bad Seeds, Cave was pencilled in to perform at Moscow's Bol Festival on June 18.
They were also scheduled to perform at Kyiv's Palace of Sports Complex on August 19.