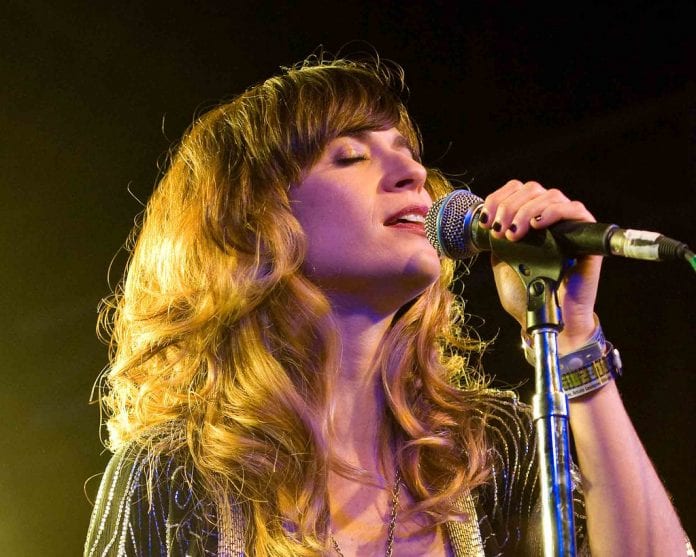 Nicole Atkins Live at: The Soundhouse, Wednesday February 28th
 Tickets €12.75 including booking fee are on sale now from Ticketmaster. Doors 7.00pm | Over 18's |ID Required
Nicole Atkins has announced a gig next February 28th at The Soundhouse, Dublin. Tickets are on sale now on Ticketmaster. They're a steal at €12.75 including booking fee! This is an over 18's event so ID is required.
The one and only Leonard Cohen described Atkins as being 'born with the gift of a golden voice'. Her new record 'Goodnight Rhonda Lee' is the story of Nicole finding her voice again: "Rhonda Lee was kind of my alias for bad behaviour, and it was time to put that persona to bed."
Speaking to Rolling Stone recently, Atkins described how entering Rehab was the accidental beginning of the record. The day she entered the California rehab centre to tackle her issues with alcohol, her father entered surgery following a diagnosis of lung-cancer. So writing a new album wasn't top of her list of priorities.
But as luck would have it, Atkins met a fellow musician while in the rehab facility and so the musical process began. She told Rolling Stone magazine: "I got the idea of committing to more of a soul sound for this record when I was in rehab."
"There was a music producer in there. I won't say who he is, but totally different style than me. A hip-hop guy. One day, he's like, 'Play me your stuff.' He said, You're really good, but you need to stop fucking around with this indie-rock bullshit. You're a soul singer. Just do what you do."
This advice stuck with Atkins and she released 'Goodnight Rhonda Lee' in July this year.
Check out the video for 'Listen Up' taken from the album below:
Feature Image: Kirk Stauffer