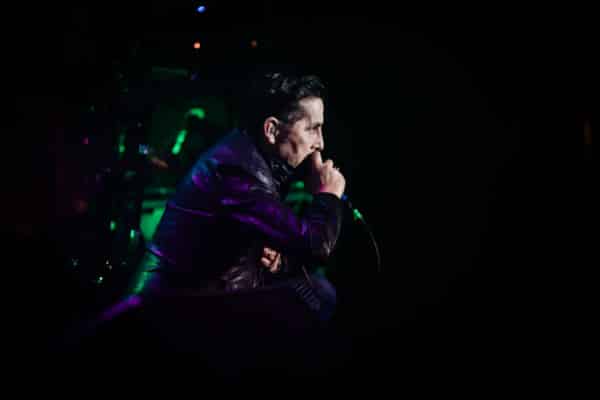 Would you like to listen to the article instead of reading it?
Aslan guitarist Billy McGuinness has promised fans that the band will never try to replace their late singer Christy Dignam.
McGuinness made these comments as the band look set to release their last ever recording they did with Dignam, a cover of Irish classic 'The Fields of Athenry'.
The recording itself was produced by Stuart Gray, as well as vocalist and guitarist Joe Jewell, after being recommended by Dolphin Records' Paul O'Reilly.
"honour our friend"
Christy Dignam passed away last month following a decade long battle with a rare blood condition, Amyloidosis. He had been placed in palliative care back in January.
Speaking in a recent interview, Billy McGuinness outlined his delight at discovering recordings that Aslan did as a foursome, saying that recording these tracks was a form of therapy.
"After Christy's death, which was a moment like you'll never forget, where you were when you got the call etc, we were ­sitting around together thinking to ourselves, what can we do", McGuinness said.
He continued, "Then it was suggested we do something about Christy's last ever session with us, as a fourpiece — and I have to be honest, we had never even thought about it".
"We wanted to do something to honour our friend".
Adding, "We all found it really therapeutic to get together and play our music again. We're helping one another through it".
"We had to go and get all our gear from a lock-up three weeks ago, that's how long it has been. Playing the music again has been indescribable".
"matter-of-fact"
Speaking about the band's recording of 'The Fields Of Athenry', Billy McGuinness added that he had did not realise that this would turn out to be the last track recorded by Aslan, which included Christy Dignam.
"We'd actually forgotten about recording Fields of Athenry because the session doesn't stand out, we didn't realise it would be our last time together", McGuinness explained.
"Every time you saw Christy, it was matter-of-fact: 'Oh I'm going in for bloods on Wednesday, let's record Thursday.' Or 'Lads I'm not feeling great, can we skip that one' and the likes", he revealed.
"So we never sat down and had the conversation (about who would succeed him)", the rocker added. "He was sick for ten years, in and out of Beaumont Hospital and then he'd be back ready to perform again".
"His vocals are incredible on the track, he sounds fantastic. Aslan have always been known for their unique cover versions of songs and we think people will love this".
"extremely tough"
Elsewhere, Billy McGuinness spoke about the "extremely tough" time that the remaining Aslan bandmembers having been helping each other through since Dignam's death.
"It was obviously very strange without Christy but it really felt like he was with us, maybe just running late because he was always running late!", he joked. "You'd hear all the excuses — 'lads I'll be there in an hour, I have to go do this and that first' — we were so used to it".
"It's been an extremely tough time because of how much he meant to us. We spent more time with him than anyone else, apart from maybe his family and even then when you're on the road together, it's 24/7 that you're in the company of one another".
McGuinness also confirmed that Aslan will return to the stage in the very near future. However, he remains unsure about who will serve as the band's vocalist.
"We know that authentically, it will never be Aslan in its true form again and there is no getting away from that", McGuinness admitted. "Christy meant so much to the public and you cannot replace him, we would never try to. But at the same time, we're musicians and we need to gig and earn a living. Christy is going to be in the room with us whenever we perform".
Aslan's recording of 'The Fields of Athenry' will be available to streaming services on July 20.