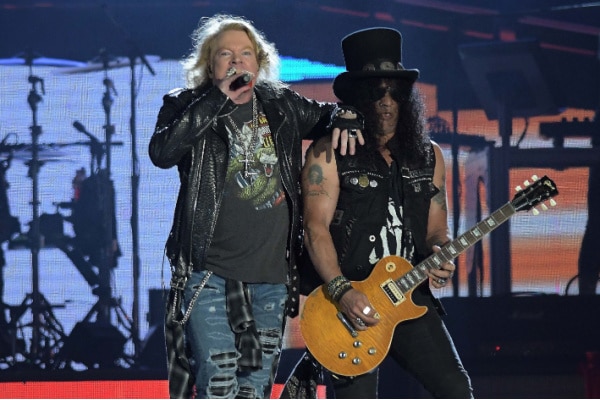 Would you like to listen to the article instead of reading it?
Guns N'Roses are to release new music very soon.
Those were the words from the band's long time production manager Tony Mayhue, who insisted that the 'Sweet Child O'Mine' hitmakers will be releasing a new single "any day now".
It had been reported earlier this Summer, that Guns N'Roses pair Axl Rose and Slash were spotted at Oslo's Urban Sound Studio, the day after the band's performance at the Tons of Rock Festival in Norway's capital in June.
Photos of the pair at the studio emerged online.
"you may hear something very soon"
According to long time Guns N'Roses production manager, the band look set to be releasing new music soon.
"And I know that the band's gonna start working on new music. They've got a bunch of stuff recorded already", said Tony Mayhue ahead of Guns N'Roses' concert in Paris a few days ago.
"So there will be new GUNS N' ROSES music very soon. In fact, I think they're trying to get a single out any day now, so you may hear something very, very soon".
Shedding some light on what this new material may sound like, Tony Mayhue compared the upcoming music to the band's hugely successful 1987 album 'Appetite For Destruction'.
The album is one of the best sellers of all time, and includes hits such as 'Welcome To The Jungle', 'Paradise City' and 'Sweet Child O'Mine'.
"It sounds great. It's a lot more kind of 'Appetite [For Destruction]'-orientated. They had a lot of songs", Mayhue said.
"When the band went in originally and recorded 'Appetite For Destruction', I think they recorded, like, 29 songs. So there's a bunch of other music that was left over that didn't make the first record. I think there's only 11 songs on the first record".
Last week, it was also confirmed that Guns N'Roses guitarist Slash, has been working on the soundtrack for the upcoming Barbie film. More on this here.