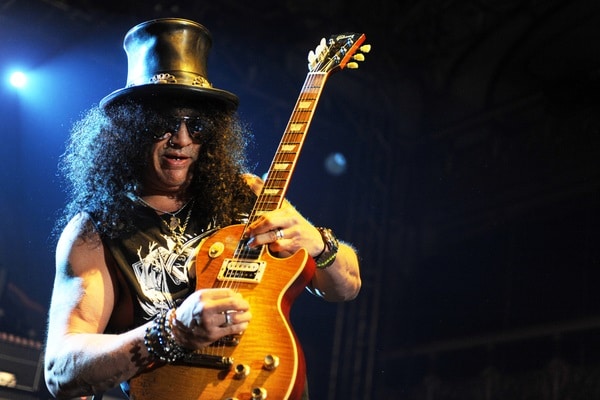 Would you like to listen to the article instead of reading it?
Guns N'Roses hard rocker Slash appears on the soundtrack for the new Barbie film.
The track which is titled 'I'm Just Ken', has been co written by Mark Ronson and Andrew Wyatt, with Ronson confirming the news regarding Slash.
The Guns N'Roses guitarist has just written the score for his latest horror film 'The Breach', avaialble for digital download from July 10.
"all time here"
Slash has now come in for major praise from Mark Ronson, who described the musician as his "all time hero", while explaining how this unlikely collaboration between the pair for the Barbie soundtrack came about.
'This is a good song… cool, I'll play on it.' He kills it, he plays the solo at the end and the rhythm parts. It's wonderful", Ronson stated.
Check out the track for yourselves below.
Barbie which will be released to cinemas on July 21, stars Ryan Gosling and Margot Robbie.
Speaking about the film, Ronson also added that he is "psyched and satisfied" with the final product.
"We hadn't met before, we just went into the studio and talked about music", Ronson said. "As he started to get warmed up, I was like, 'Oh my god, this guy is gonna murder this song.' And of course he would. He's Ken. Who would understand this song better than him?".
BEYOND PROUD AND EXCITED TO SHARE "I'M JUST KEN" – A SONG WRITTEN BY MYSELF & @wyattish PERFORMED BY THE MONSTER VOCAL TALENT OF RYAN GOSLING featuring @Slash from @barbiethealbum @barbiethemovie pic.twitter.com/MY4LwrfG3v

— Mark Ronson (@MarkRonson) July 10, 2023
Speaking of films, Slash himself spoke about the recent horror film which "scared the s***" out of him.
"I don't scare very easily", he said. "That said, the first Night Of The Living Dead scared the shit out of me. It was so visceral, raw and fucking bleak. I found it quite unsettling".