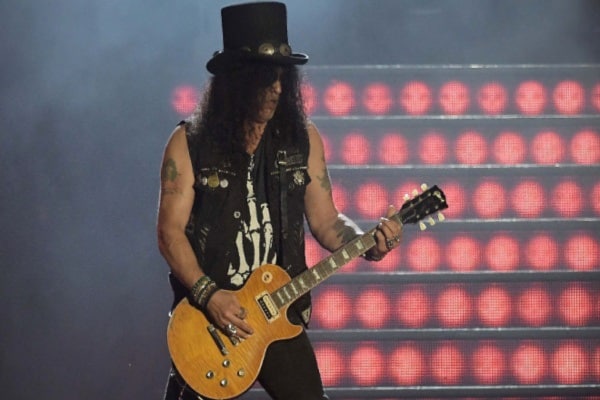 Would you like to listen to the article instead of reading it?
Guns N'Roses' guitarist Slash has mentioned that one horror movie which "scared the s***" out of him.
Slash made these comments in a recent interview with NME, where he spoke about how his love for the genre can be traced back to his childhood. The guitarist is also a keen enthusiast of film scores.
Growing up in England, Slash whose real name is Saul Hudson, explained how his love for horror films came about after discovering Hammer Horror films.
"People like Vincent Price, Peter Cushing and Charles Laughton – all those British horror icons… I just fell for it 100 per cent", Slash said.
He also revealed that his father had encouraged him to read books written by authors like Edgar Allan Poe, H.P Lovecraft, and Ray Bradbury.
"I don't scare easily"
However, Slash has stated that there is one film which has particularly put the frighteners on him.
"I don't scare very easily", he said. "That said, the first Night Of The Living Dead scared the shit out of me. It was so visceral, raw and fucking bleak. I found it quite unsettling".
Slash was speaking ahead of the release of his upcomiing film 'The Breach', which will be available via digital download from July 10.
Slash who produced and scored this film, has also spoken certain composers who inspired him.
Mentioning the likes of John Carpenter, Hans Zimmer, while referring to Danny Elfman as a "genius", Slash said, "I mean people like [Icelandic musician] Hildur Guðnadóttir who did Joker – that was an amazing f****** score".
He also added, "I also think [Radiohead guitarist] Johnny Greenwood is a great fucking composer. There Will Be Blood was one of the best scores of the last 20 years".
Elsewhere, Slash also spoke about working on a new TV series, based on "an adaptation of a great book".
Earlier this month, Slash and Guns N'Roses bandmate Axl Rose were spotted in a studio together, which seems to mean that new music is on the way.
Speaking of horror movies, fellow rocker Alice Cooper chose his favourite films from that genre. More on that from Nova here.