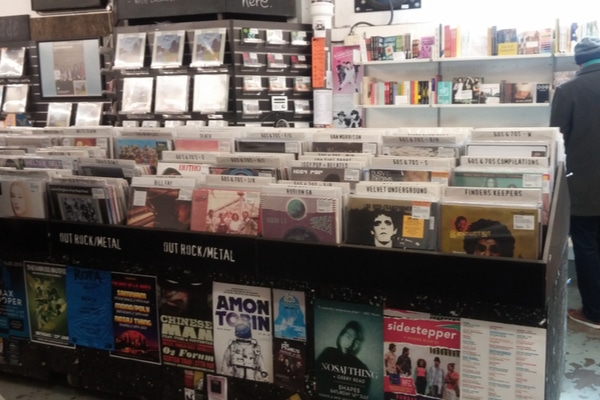 Would you like to listen to the article instead of reading it?
Record Store Day is fast approaching, well it takes place tomorrow to be more precise! And boy, there are some very special releases in store.
Taking place tomorrow (April 22), Record Store Day 2023 will include some very special releases from iconic artists such as Thin Lizzy, U2, The Pogues, and Dermot Kennedy among others.
As we confirmed back in February, Thin Lizzy will release a vinyl record of their second of three special live performances from Hammersmith, titled 'Live And Dangerous'.
This special vinyl record was overseen by Thin Lizzy guitarist Scott Gorham, as well as being newly mixed by Ben Findlay. Limited to just 1600 copies, this record was also pressed on a 180g, with a gatefold sleeve.
"There isn't a damn thing I'd change about it", he said. "It's not perfect, but it's us. It's a piece of history", Gorham said of this vinyl release.
He also added, "You make a live album to prove how good you are as a live band' – and Lizzy was a great live band".
More on this here.
Other Record Releases
Elsewhere, U2 also confirmed that they would release a 4 track EP for Record Store Day, commemorating the 40th anniversary of their 1983 album War.
Featuring two original studio tracks, this record also includes two reimagined versions of their 2023 Songs of Surrender. It will also be released on a 180g heavyweight white vinyl, with an exclusive poster.
Meanwhile, The Pogues will release a set of non album b sides from their time with record label Stiff Records.
Such tracks include the following. 'Shanne Bradley', 'The Band Played Waltzing Matilda'; 'The Irish Rover', 'A Rainy Night In Soho', and 'Mountain Dew' both featuring The Dubliners.
They will also include a selection of traditional arrangements, including 'The Parting Glass', 'Whiskey You're The Devil', 'Muirshin Durkin' and 'The Leaving Of Liverpool'.
Dermot Kennedey's 2023 singles 'Kiss Me' and 'Something To Someone' will also be available as a limited-edition for Record Store Day, on a transparent vinyl.
🚀The official #RSD23 list has landed! 🚀

Hundreds of special and exclusive releases are coming to over 250 of our brilliant independent record stores across the country.

Mark your diaries: April 22nd, 2023, and support your local record store!https://t.co/1zmtAtPUf2 pic.twitter.com/cxDbOQ4UIF

— Record Store Day UK (@RSDUK) February 16, 2023