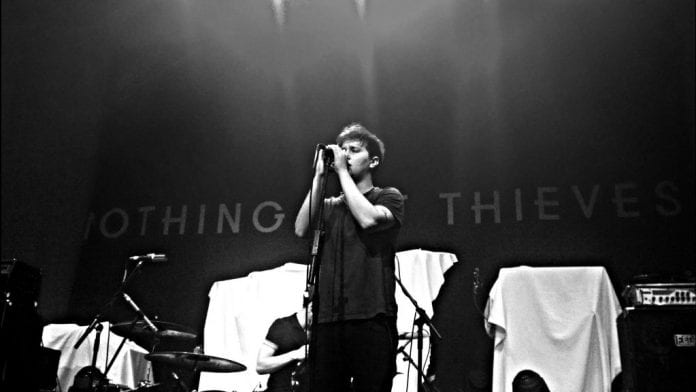 UK alt rock band 'Nothing But Thieves' are the latest band to be hit with sexual assault allegations.
The band were scheduled to play the 2018 NME Awards Nominations Party today, but following a string of allegations from fans, the gig has been cancelled. Not just one member has been accused, multiple members are facing different allegations.
Fans have come forward on Twitter with their stories of alleged misconduct and abuse. It's been said that at least four members of the band were 'sleeping with, sexting and soliciting nudes from underage fans'.
One of the sources told of her experience with a band member named Dom. Following a concert, he allegedly: "grabbed [her] by the throat & pinned [her] against the wall in front of everyone & shoved his tongue down [her] throat."
She continued, that after being told to stop, he later returned and 'dragged [her] around the corner' before doing it all over again.
There's also allegations that some members sent videos of themselves masturbating to underage fans, sexual harassment of a girl working at a gig and more.
Nothing But Thieves have experienced a lot of success, with The Guardian describing them as 'a vulcanised fusion of Muse and Radiohead' just last week.
NME announced the gig cancellation yesterday on Twitter.
— NME (@NME) November 15, 2017
The band have since responded to the allegations on their own Twitter page with this statement:
Please read our official statement: pic.twitter.com/Zp6bgvT5Id

— Nothing But Thieves (@NBThieves) November 15, 2017