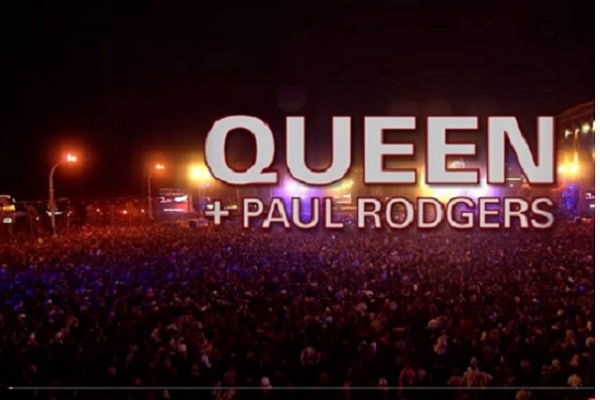 Over the weekend, Queen and Paul Rodgers hosted a special online screening of their 2008 live show in Ukraine to raise funds for the war torn country.
This special premiere took place last Saturday (19 March), raising funds for UNHCR, which is the UN Refugee Agency.
Along with Queen, the screening was also co hosted by Paul Rodgers. Rodgers has been a lead vocalist for several bands, including Free and Bad Company.
He is also no stranger to a collaboration with some of the Queen band members including May. He has worked under the moniker, Queen + Paul Rodgers.
"historic moment"
The concert itself which took place in Kharkiv's Freedom Square, was described by Queen guitarist Brian May as a "historic moment".
This gig was a free event which took place in front of over 350,000 people in order to raise awareness of AIDS. Queen's iconic frontman Freddie Mercury had died of the disease back in 1991.
Sharing a teaser clip of the screening, Brian May added, "In September 2008 Queen + Paul Rodgers answered a call from Ukraine's Elena Pinchuk's ANTIAIDS Foundation to reach out to the youth of the country with the message "Don't Let AIDS Ruin Your Life" by playing a free "Life Must Go On" AIDS awareness concert in Kharkiv's historic Freedom Square to a live audience of more than 350,000 – and a television audience of more than 10 million". 
"The band recall that event as "an unforgettable experience… one of those rare things in life you know you will never forget. A meeting in music, but also a coming together to fight a common enemy…", he continued.
"Today, with millions of Ukrainian refugees in need of urgent humanitarian relief from a different affliction, Queen is returning to its historic moment with a YouTube special screening aimed at drawing donations for UNHCR's relief efforts". 
Earlier this month, Brian May also made his feelings known of the Russian invasion of Ukraine via Instagram.
"It seems unbelievable that the peaceful life of Ukraine could be so senselessly shattered in the 21st century. And it feels unbearable that the world could just watch and let it happen", May wrote."We are all praying for peace for you, dear friends", the Queen guitarist wrote.
Find out what other musicians have said of the ongoing conflict here.