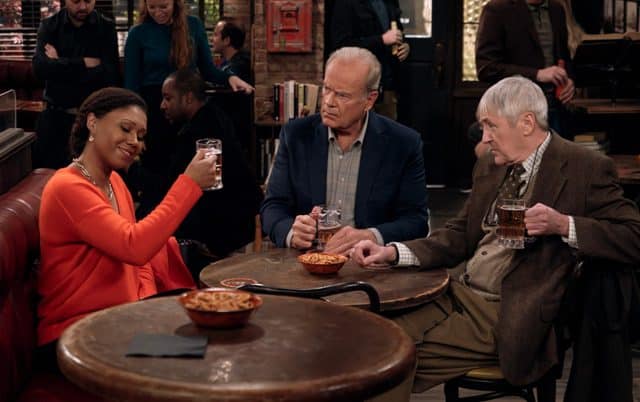 Would you like to listen to the article instead of reading it?
Only Fools And Horses star Nicholas Lyndhurst is set to play Frasier's old college friend-turned-university professor Alan Cornwall as a first look at the reboot of popular comedy series Frasier was released ahead of its scheduled airing in October.
Paramount+ announced that Kelsey Grammer, reprising the titular role as psychiatrist Dr Frasier Crane, will air on October 13th in Ireland.
The new series sees Frasier return to Boston, where the character had originally appeared on the iconic US sitcom Cheers in the 1980's, with "new challenges to face, new relationships to forge and an old dream or two to finally fulfil".
In 1993, Frasier had his own spin-off Seattle-based show, which ran until 2004, and also previously starred Jane Leeves as the Manchester-born home help, Daphne Moon, David Hyde Pierce as his brother, Dr Niles Crane and Peri Gilpin as the long suffering producer of his talk radio show, Roz Doyle.
After just occasional appearances in the original series, Frasier's son, Freddy, has been recast in the Paramount+ show with British actor Jack Cutmore-Scott joining the show.
A new character Olivia – played by Toks Olagundoye – as a colleague of Lyndhurst and head of the university's psychology department, has also been created.
A teaser for the show also has a new recording of the show's original theme song, Tossed Salads & Scrambled Eggs, and a promise that there are "no more callers" but "all new hang-ups".
During its original run, the comedy picked up a host of awards and won widespread critical acclaim, with Grammer winning Emmy, Golden Globe and Screen Actors Guild awards.