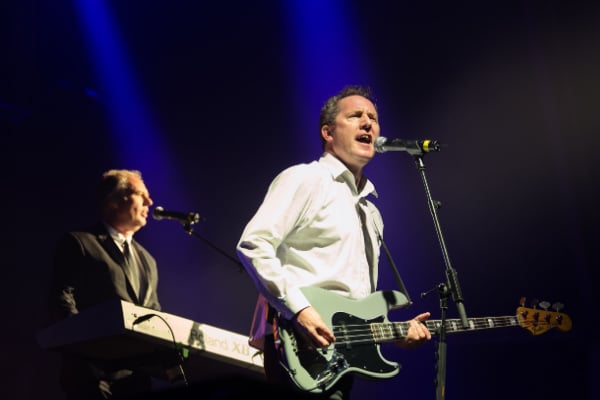 Would you like to listen to the article instead of reading it?
Orchestral Manoeuvres In The Dark (OMD) have announced a run of dates for the UK and Ireland, including a show at Dublin's 3Olympia Theatre next year.
The synth pioneers who have just announced their latest album 'Bauhaus Staircase', will perform at the Dublin venue on 28 February next year.
'Bauhaus Staircase', arrives on October 28, and includes the single 'Slow Train', which will be released a day earlier than the album.
The UK leg of their tour will also see OMD take in shows in Liverpool, Leeds, Manchester, Newcastle, Leicester, Nottingham, Wolverhampton, Swansea, Edinburgh, Glasgow, and more.
These shows come before OMD take to the stage across Europe, including, France, Norway, Germany, Holland and others. Check out the tour dates in full here.
Tickets will go on sale this Friday (September 22) at 10am.
Orchestral Manoeuvres In The Dark are "so excited" To Be Back
Speaking following the announcement of their shows, Orchestral Manoeuvres In The Dark lead singer Andy McCluskey is excited to return to the stage with the band.
"We are so excited to be able to tour again with a brand new album to showcase." says McCluskey stated.
"It's been six years since we learned new songs for live performances. The songs from Bauhaus Staircase will fit beautifully into our setlist – we just have to choose which five to play, as we have to treat people to the hits as well!".
In other news, tickets for a second Wolfe Tones show went on sale today. Find out more here.