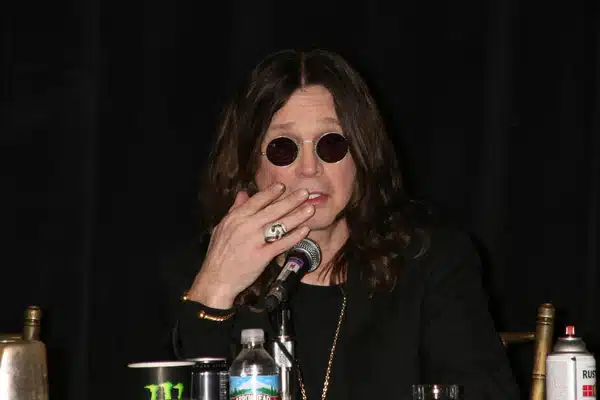 Heavy Metal God, Ozzy Osbourne is facing a furious reaction from the public after revealing he has 'killed' animals in his garden. The 72-year-old claims he has shot various 'cats and birds' that found their way into his Los Angeles garden, and it has not gone down too well.
Ozzy previously revealed that he has turned his backyard into a shooting range during to help take his mind off health issues. The former Black Sabbath frontman has taken up shooting air rifles as a hobby to keep himself busy during the pandemic. The rocker admits that his poor aim has caused a whole heap of carnage, killing birds and cats that stray onto his land.
The Prince of Darkness, who suffers tremors from Parkinson's, calls blasting an air rifle outside his LA home is "good fun". He added that shooting "gets me out of my head, man. When I am in my house, I worry I never am going to walk properly. When I first started this thing, I could not shoot. Now there's dead cats (and) birds every minute."
Ozzy, who has ten air rifles in his collection, said shooting them also helps him creatively. He has been working on projects during the coronavirus pandemic and rifle shooting helps the Godfather of Metal to relax. "When I am in my house, I worry I never am going to walk properly or do another gig. So, I have got to get something to take my mind off of me."
The Osbourne's live with over 10 dogs and cats, but Ozzy said "they f*** off" when the shooting begins. The Prince of Darkness added that his pets have helped keep him sane during lockdown in southern California.
Ozzy suffers from emphysema, making him a risk for COVID
During an interview last November, Ozzy revealed that he suffers from a respiratory disease that puts him at an increased risk. If the rocker caught the virus, he would suffer severe pneumonia and possibly death.
"I've got emphysema, so if I get this virus, I'm f*****." said Ozzy. "If I go out, I wear a mask, but I don't like wearing a mask, so I don't go out much. The producer on my album [Andrew Watt] got the virus. I'd phone him up every day and he said he couldn't sleep, because as soon as he went to sleep, he'd stop breathing.
"He's not the same person now," declared Ozzy. "It's like anyone who's had a near-death experience: he's become a bit careful with life. But my two granddaughters caught it and you wouldn't think they had anything wrong with them. It just bounced off them."
Ozzy to be inducted into WWE Hall Of Fame
In other news, Ozzy will be inducted into the WWE Hall Of Fame, according to Wrestling Observer. The metal head was an unannounced addition of the combined 2020/2021 WWE Hall Of Fame ceremony, which was taped last week. Although the legendary heavy metal singer was not present to accept the honour, he did tape a video message that will be aired as part of the show.
Ozzy made several appearances on WWE TV over the years, including at WrestleMania 2. The rocker joined Captain Lou Albano to manage The British Bulldogs in their WWF tag team championship win over Brutus Beefcake and Greg Valentine. Osbourne also performed live at a SmackDown show in Baltimore in 2007, and later served as a special guest host for Raw in November 2009.