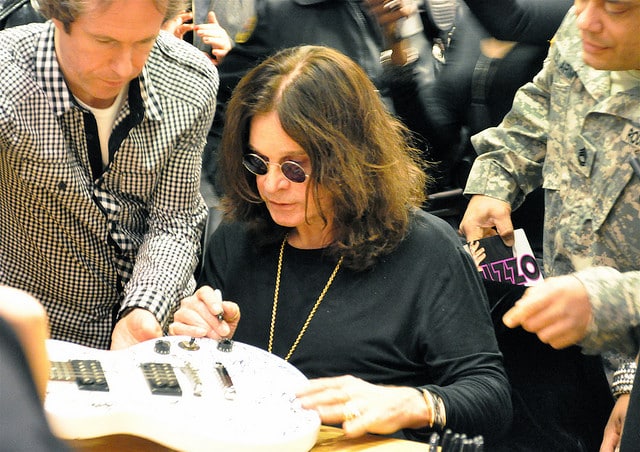 No More Tears for fans of Ozzy Osbourne, you'll soon be able to get all of his hits in one place.
Memoirs Of A Madman is being released on CD, DVD, 180gm Double Vinyl and Limited Edition Picture Disc Vinyl this October.
The 'Crazy Train' singer teased the announcement on his @OzzyOsbourne Twitter account, where fans had to use the hashtag #OzzyRules to unlock the information of the release.
Check out the video teaser.
The Memoirs Of A Madman album will contain four decades of music from the Black Sabbath front man in 17 tracks, while the DVD will have music videos, unreleased and out-of-print live performances and interviews from his solo career.
Ozzy's last album Scream in 2010 was a top 5 hit in the USA. Black Sabbath have been on the festival circuit this summer, and Ozzy's next live date will be at the Seoul World Cup Stadium in Korea on August 9th as part of the CityBreak Festival.
Elsewhere Black Sabbath guitarist Tony Iommi is said to be considering a collaboration with Tom Jones…seriously!
Memoirs Of A Madman Track List:
1. Crazy Train
2. Mr. Crowley
3. Flying High Again
4. Over The Mountain
5. Bark At The Moon
6. The Ultimate Sin
7. Miracle Man
8. No More Tears (edit)
9. Mama, I'm Coming Home
10. Road To Nowhere
11. Perry Mason
12. I Just Want You
13. Gets Me Through
14. Dreamer
15. I Don't Wanna Stop
16. Life Won't Wait
17. Let Me Hear You Scream