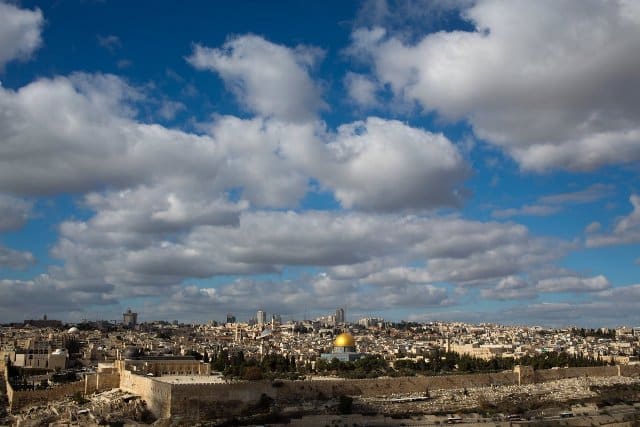 VIDEO: Demonstrators clashed with security forces in Ramallah and Bethlehem on Thursday, following the decision by President Trump to recognize Jerusalem as the capital of Israel. pic.twitter.com/zVQopb15s6

— VOA DEEWA (@voadeewa) December 7, 2017
The UN Security Council has called an emergency meeting to take place tomorrow amid growing tensions in the Middle East.
Violent protests have broken out in Ramallah and Bethlehem following Donald Trump's decision to recognise Jerusalem as Israel's capital.
More than a dozen Palestinians have been injured in clashes in the occupied West Bank – while Israel has deployed hundreds of extra troops to the area.
I have determined that it is time to officially recognize Jerusalem as the capital of Israel. I am also directing the State Department to begin preparation to move the American Embassy from Tel Aviv to Jerusalem… pic.twitter.com/YwgWmT0O8m

— Donald J. Trump (@realDonaldTrump) December 6, 2017
Saudi Arabia has called the US decision 'unjustified and irresponsible'.
The decision by President Trump on Jerusalem – which includes occupied Palestinian territory – is reckless, wrong and a threat to peace. It is being rightly condemned across the international community.

— Nicola Sturgeon (@NicolaSturgeon) December 6, 2017
Israel's prime minister has urged other countries to follow the US in recognising Jerusalem as its capital.
President Trump, who promised the move in his election campaign, says the recognition is "long overdue", even though Palestinians also claim it.
But it has been widely criticised – Islamist group Hamas says the decision will "open the gates of hell"
However the former Time Magazine bureau chief, David Aikman, says the US has reason to see Jerusalem as a working capital.
The Palestinians, who also claim the city as their capital, say the move has destroyed the middle east peace process.
Foreign Affairs Minister Simon Coveney says President Trump's announcement is "very disappointing and difficult to understand".
Donald Trump says his decision to recognise Jerusalem as the capital of the state of Israel is "the right thing to do".
British Prime Minister Theresa May has also called it unhelpful in terms of prospects for peace in the region.
Palestinian leader Mahmoud Abbas remains defiant.
Former US ambassador to Israel Jamie Cunningham struggles to see the benefits of changing how it's recognised.
This is a historic day. Jerusalem has been the capital of Israel for nearly 70 years. Jerusalem has been the focus of our hopes, our dreams, our prayers for three millennia. Jerusalem has been the capital of the Jewish people for 3,000 years. Thank you, @realDonaldTrump! 🇮🇱🇺🇸 pic.twitter.com/mWCUpUMpiC

— Benjamin Netanyahu – בנימין נתניהו (@netanyahu) December 6, 2017