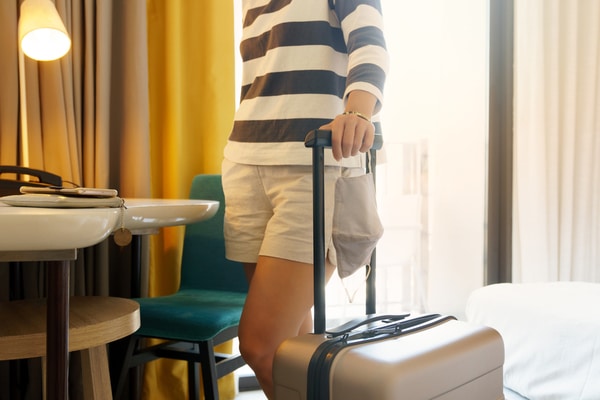 Mandatory hotel quarantining has begun in Ireland with the first group of passengers arriving at the designated hotels this morning. Around 20 passengers were transported by bus from Dublin Airport to the first quarantine centre at the Crowne Plaza Hotel in Santry.
The process marks the beginning of Ireland's mandatory hotel quarantine system for passengers arriving from the 33 countries on the red list. As of 4am this morning, all passengers arriving from countries flagged as high risk for Covid-19 transmission will have to quarantine for 12 nights.
Quarantining could be reduced for passengers who test negative for the virus on day 10 of their stay. However, anyone who tests positive will have to extend their stay, with the State paying for any extension beyond 12 days. The rules also apply to any passenger who arrives from any other country without a negative PCR test, which must be carried out no more than 72 hours before they arrive in Ireland.
Passengers are required to pre-book their accommodation in a designated quarantine hotel and pay in advance for their stay. The online booking portal for the quarantine packages went live on Sunday, with 76 passengers having made bookings by Friday.
The cost for an adult from a high-risk country is €1,875 for 12 nights, €625 for a second person over the age of 12 sharing the room, and €36 for children aged four to 12. The Crowne Plaza in Santry, the Holiday Inn Express in Santry, Clontarf Castle in Clontarf and the Hard Rock Hotel at Exchange Street Upper were designated by Minister for Health, Stephen Donnelly.
If any passengers do not fulfil the legal requirement for mandatory quarantine, they are committing an offence. For this, they could receive a fine of up to €2,500 and/or a six-month prison sentence. Anyone who tries to leave their hotel quarantine unlawfully could be met with a €2,000 fine, a one-month prison sentence, or both.
According to Government guidelines, passengers who arrives from a country not deemed high risk must quarantine at home, if they provide a negative PCR test. The Health Protection Surveillance Centre released figures showing 1.72% of all cases detected in the two weeks up to last Saturday were connected to travel.
Passengers can see further information on mandatory hotel quarantining and the complete list of restricted countries by clicking here.