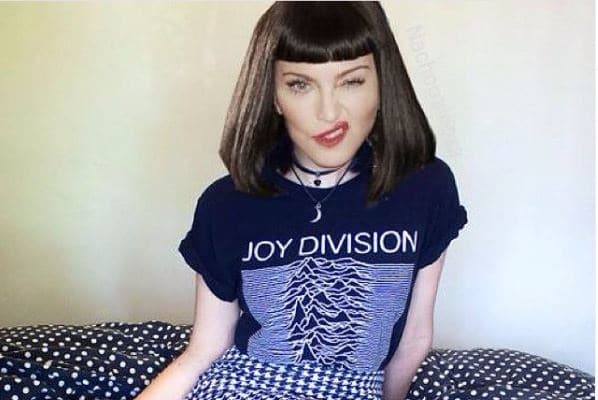 A TikTok user has claimed that Madonna cropped her head onto her body while promoting album Rebel Heart in 2015. Amelia Goldie uploaded a TikTok earlier this month, where she told followers that the singer actually used a photo of her body, which was used for a promotional photo shared on her official Instagram.
Goldie captioned the clip: "When Madonna posts a photo of herself to IG to promote her album but it's actually your body (I'm not joking)". Goldie goes on to show the original photo of herself, along with the edited photo that Madonna posted. In her post, Madonna appeared to be sitting on a bed, wearing a Joy Division t-shirt and patterned skirt. However, Goldie's clip shows the body to be actually hers, with Madonna's head cropped on top.
The video has over 2 million views, leading many to dig through Madonna's Instagram, discovering the photo to be still there. Madonna posted the picture in 2015 with the caption, "I look kewl…" to promote her album, Rebel Heart. Goldie confirmed that the photo is still on the singer's Instagram page six years later, where she has more than 15.7 million followers.
In an interview with Vice, Goldie explained how she initially thought it was a joke, only to find the photo herself on the pop star's official Instagram. She said not only was she shocked to find Madonna had stolen her photo, but her parents did not believe her when she told them. She said "they still think it's a joke and can't comprehend how or why it's happened. It's hilarious."
Goldie said she reached out to the star's team twice regarding the post but, has never received a response. She explained to Vice how she is surprised Madonna Still has the photo up, and that "quite a few people are saying that she should credit me and that it's a bit strange!"
Madonna's post has been flooded with comments since Goldie's video was shared, with people questioning why she did not credit the TikTok user. Goldie told BuzzFeed that if Madonna ever reached out to her over the photo, she would "laugh and say I'm flattered". Goldie also said that she wishes she would have been credited for the picture, rather than finding out randomly.
Goldie then said of Madonna, "I think if you're going to play somebody else's body off as your own, they deserve to be mentioned. But no hard feelings!"
Her album, Rebel Heart was subject to "terrorism" when it had been illegally shared by a man in Israel. Madonna took to Instagram to vent her fury writing: "This is artistic rape!! These are early leaked demo's half of which wont even make it on my album the other half have changed and evolved. This is a form of terrorism. Wtf!!!! Why do people want to destroy artistic process??? Why steal? Why not give me the opportunity to finish and give you my very best?".