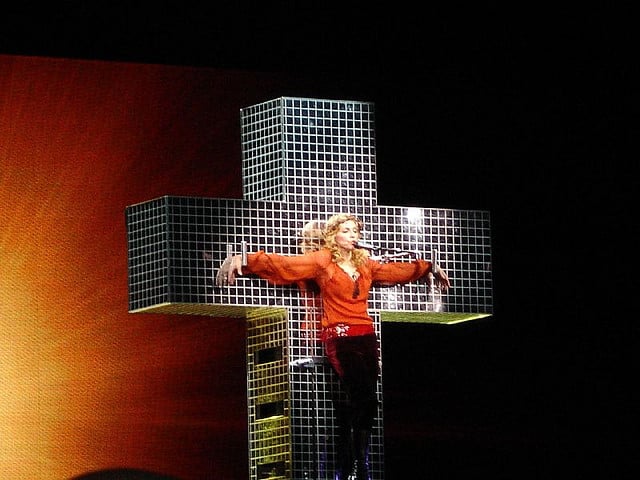 Never one to back down easily, Madonna remains unapologetic about her comments referencing her album leak as 'terrorism'.
The singer says that "i'm sorry if my words alarm people," however she hasn't rescinded her remarks about rape or terrorism.
Earlier this week, Madge's entire 13th record surfaced online, and she was very pleased about the situation at all.
Madonna took to her Instagram to vent her fury writing: "This is artistic rape!! These are early leaked demo's half of which wont even make it on my album the other half have changed and evolved. This is a form of terrorism. Wtf!!!! Why do people want to destroy artistic process??? Why steal? Why not give me the opportunity to finish and give you my very best?".
The declaration didn't go down well, people felt her words trivialised the serious subject matter she was referencing.
In an interview with the Guardian, she explained her statement. "Obviously there is a person, or a group of people behind this that were essentially terrorising me. I don't want to sound alarming, but certainly that's how I felt. It's one thing if someone comes into your house and steals a painting off your wall: that's also a violation, but, your work, as an artist, that's devastating.
"I'm an artistic person, I'm very expressive. I'm sorry if words alarm people, but that's what it felt like. It was not a consensual agreement. I did not say 'hey, here's my music, and it's finished.' It was theft."
The album is expected to be released next year, the name hasn't been revealed yet (at least something remains a secret), rumoured album titles include Iconic or Unapologetic Bitch.
The full track list (via ONTD) of Madonna's album:
'Unapologetic Bitch'
'Bitch I'm Madonna'
'Addicted (The One That Got Away)'
'Borrowed Time'
'Heartbreak City'
'Illuminati'
'Joan Of Arc'
'Living 4 Love (Carry On)'
'Make The Devil Pray'
'Messiah'
'Rebel Heart'
'Revolution'
'Wash All Over Me'