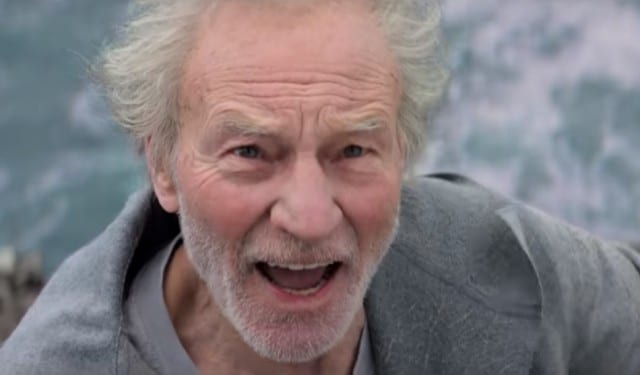 Sir Patrick Stewart is looking forward to being Captain Jean-Luc Picard again.
The 78-year-old actor told us he will be reprising his role as the former Enterprise captain and that it will be set some 20 years after the events of the last series.
The award-winning actor is currently promoting Joe Cornish's new movie, THE KID WHO WOULD BE KING, in which old school magic meets the modern world in a retelling of King Arthur and Excalibur, with him playing legendary wizard Merlin.
LISTEN TO SIR PATRICK & CO STAR ANGUS IMRIE IN FULL HERE
THE KID WHO WOULD BE KING stars the son of Andy Serkis (Gollum in The Lord of the Rings film trilogy) Louis Ashbourne Serkis with Dean Chaumoo, Tom Taylor, Rhianna Dorris, Angus Imrie, Sir Patrick Stewart and Rebecca Ferguson.
Audiences will remember Rebecca Ferguson for her portrayal of Elizabeth Woodville in the 2013 miniseries The White Queen, for which she was nominated for a Golden Globe. Ferguson also starred alongside Tom Cruise as MI6 agent Ilsa Faust in the action spy films Mission: Impossible – Rogue Nation and its sequel Mission: Impossible – Fallout. She recently played Jenny Lind in the musical The Greatest Showman with Hugh Jackman.
LISTEN TO REBECCA FERGUSON IN FULL HERE
In THE KID WHO WOULD BE KING Alex (Ashbourne Serkis) thinks he's just another nobody, until he stumbles upon the mythical Sword in the Stone, Excalibur. Now, he must unite his friends and enemies into a band of knights and, together with the legendary wizard Merlin (Stewart), take on the wicked enchantress Morgana (Ferguson). With the future at stake, Alex must become the great leader he never dreamed he could be.
LISTEN TO DIRECTOR JOE CORNISH IN FULL HERE
With the brilliant Sir Patrick Stewart playing legendary wizard Merlin you think this would be a no-brainer fun family flick…it almost is…but at over 2 hours long it's just too much for me, let alone the little ones – THE KID WHO WOULD BE KING gets ★★★