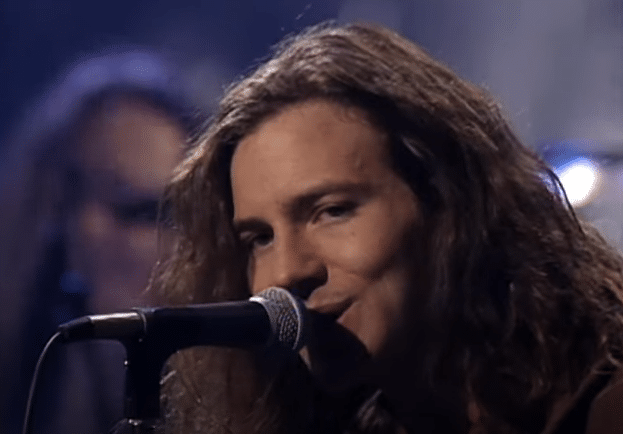 Pearl Jam's legendary MTV unplugged performance is now available to watch on the band's YouTube channel.
It was recorded in 1992 at Kaufman Astoria studios in New York following the release of Pearl Jam's debut album 'Ten'. That record saw Pearl Jam burst into the mainstream as grunge and alternative music was beginning to take over across the world.
The concert saw Pearl Jam take a different spin on their classics such as 'Even Flow', 'Alive' and 'Jeremy'. The band also played 'Oceans', 'State of Love and Trust', 'Porch', 'Garden' and 'Leash'. The Seattle icons also covered 'Rockin' in the Free World' by Neil Young.
Now for the first time, the concert is available to watch, however not in full unfortunately. The video posted on Pearl Jam's channel does not have their performance of 'Rockin' in the Free World, 'Garden' and 'Leash'.
The show was released on vinyl for record store day in 2019 and saw a re-release this year as part of Pearl Jam's 30th anniversary celebrations. For those who missed out on the release, it is also available to stream in all the usual places.
Frontman Eddie Vedder gives a passionate performance at the show. The singer also had Pro-Choice scrawled on his arm as their song 'Porch' was said to reflect Vedder's stance on abortion.
MTV unplugged shows were a special thing. Some of the biggest names in the music industry have performed an unplugged show on MTV or a special take on them. Oasis, Paul McCartney, Eric Clapton, Metallica, Jay-Z and Alanis Morissette have all performed them. The most iconic ones were played by fellow alt rock icons Alice in Chains and Nirvana.
Pearl Jam have also announced plans for concerts for 2021. They are to become the first band to play two nights at Hyde Park for the BST Hyde Park festival. The Pixies and IDLES have been announced as the main support acts for the concerts. You can read Radio Nova's report on it here.
Despite the pandemic, Pearl Jam have been keeping busy this year. They released their 11th album in March of this year. 'Gigaton' was well received by fans and critics alike.
Pearl Jam also released a new song entitled 'Get it Back'. The song was a contribution to the 77 song album 'Good Music To Avert The Collapse of American Democracy'. The album also featured songs from Jason Isbell, My Morning Jacket and Tenacious D.
The band also released the full uncensored version of the music video for 'Jeremy' to raise gun violence awareness.
Frontman Eddie Vedder also spent time showing people in America how to correctly mail in their voting ballot ahead of the upcoming elections. The singer set up an Instagram account to shed light on the mail in voting.
Pearl Jam unplugged setlist
Oceans
State of Love and Trust
Alive
Black
Jeremy
Even Flow
Porch
Rockin' in the Free World (Neil Young Cover)
Garden
Leash
https://www.youtube.com/watch?v=GxWKQWmqkiI