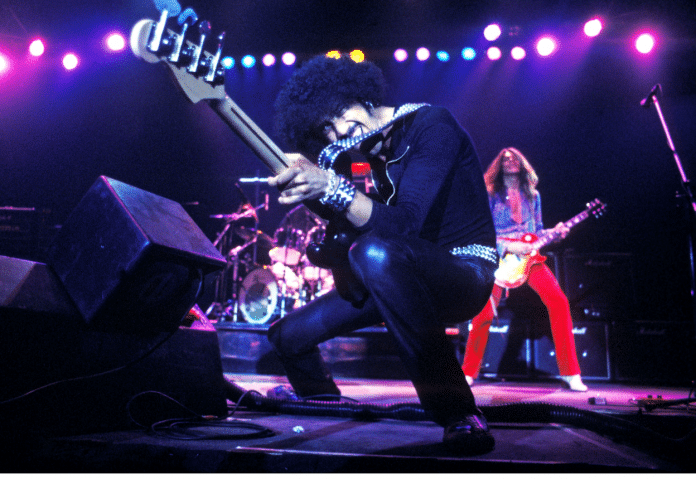 Break Out Pictures have announced that they will release the hotly anticipated PHIL LYNOTT: SONGS FOR WHILE I'M AWAY in Irish Cinemas this Autumn.
PHIL LYNOTT: SONGS FOR WHILE I'M AWAY is a feature documentary on the life and music of Phil Lynott, telling the story of how a young black boy from working class 1950's Dublin, became Ireland's greatest Rock Star. As lead singer of Thin Lizzy, Phil Lynott was a songwriter, a poet, a dreamer, a wildman. Told extensively through the words of Phil himself and focusing on some of his iconic songs, the film gets to the heart of Philip, the father, the husband, the friend, the son, the rock icon, the poet and the dreamer.
Speaking on the upcoming release, Director Emer Reynolds said "We are so delighted that PHIL LYNOTT: SONGS FOR WHILE I'M AWAY – our film about the legendary Phil Lynott – will soon be coming to the big screen! We can't wait to share it with Irish audiences and to celebrate Philip and his extraordinary life and music."
Adding to this Phil's daughters Sarah Lynott and Cathleen Howard-Lynott commented "As always, we are incredibly proud of our Dad and we loved having the opportunity to look at the man behind the music with this film."
Reynolds and her team have assembled a wide number of contributors including Thin Lizzy's Eric Bell, Scott Gorham, Darren Wharton, Midge Ure, Skid Row's Brush Shiels, U2's Adam Clayton, Suzi Quatro, Huey Lewis and Metallica's James Hetfield.
"Having been a huge Thin Lizzy fan throughout my life, it's an incredible honour to be bringing this celebratory and intimate portrait of lead singer and songwriter Philip Lynott to the big screen," Reynolds told Screen Daily.
Born in Birmingham to a Brazilian father and an Irish mother, Lynott moved to Dublin as a teenager. He died aged just 36 in 1986.
Lynott's legacy is embodied in his influence cited by bands such as Metallica, Foo Fighters, Smashing Pumpkins and Def Leppard among others, as well as a statue erected in his honour in Harry Street, just off Grafton Street and a wax work at the National Wax Museum.