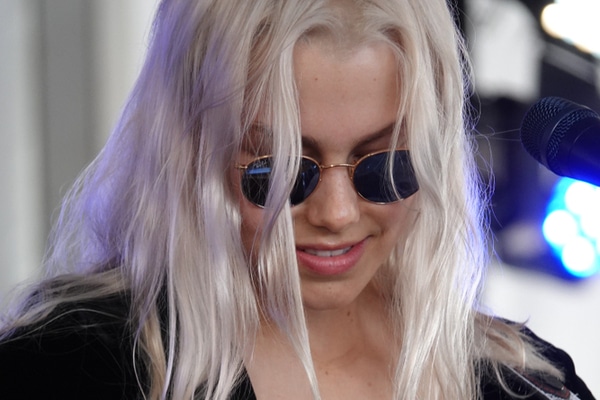 The latest artist to cover Metallica is Phoebe Bridgers.
The American singer/songwriter shared her "baroque" cover of Metallica's classic Nothing Else Matters.
The cover is one of the many that will feature on the upcoming tribute album The Metallica Blacklist.
Due to be released on September 10th, the album boasts a whopping 53 tracks from a variety of artists re-interpreting songs from Metallica's Black Album, which celebrates its 30th anniversary this year. Other acts to feature on the album include Miley Cyrus, My Morning Jacket, St. Vincent, Chris Stapleton, Biffy Clyro, Weezer and Slipknot's Corey Taylor.
Releasing alongside the covers album is a deluxe reissue of The Black Album containing 14 CDs, six vinyl LPs, and six CDs.
"It was just so fun to take a part in it," Bridgers said of her contribution to the tribute album. "I feel like my version almost sounds baroque. Literally, James Hetfield does all sorts of weird octave jumps and stuff that I can't do, and I almost have a Billie Eilish approach of right by the microphone, performing it the opposite of them, which was really fun to lean into."
Bridgers spoke of being a fan of the metal legends.
"I've always been a big Metallica fan," Bridgers said. "I think it's funny, my intro to them was probably way later than so many people who have always loved them. But when I was a teenager, I went to Outside Lands, and I definitely knew Metallica songs from video games and stuff, but I went to Outside Lands and saw their set and was like, 'This is a rock band.' It's kind of a gateway to metal because they're so hooky and you can hold onto so much of it and it actually can get stuck in your head. So that's what I've always loved about Metallica is that they don't shy away from a great hook."
Last year Bridgers got to speak with Metallica's Lars Ulrich as part of Rolling Stone's special Musicians on Musicians issue.
"I think of Metallica as being a pop band," she told Lars Ulrich. "A lot of metal is just metal to be metal — but Metallica write real songs."
Nothing Else Matters was originally released in 1992 as the third single from the previous year's Black Album. The single reached number six in both the Irish and UK charts. It's become one of the more popular tracks among players of the Guitar hero video game.
Along with paying tribute to her metal faves, Bridgers has other collaborations lined up. She's set to feature on The Killers' upcoming album Pressure Machine. Bridgers will also be heard on Taylor Swift's reimagined version of her 2021 album Red.
Recently Bridgers lent her vocals to Lorde for the title track from the New Zealand singer's Solar power album.