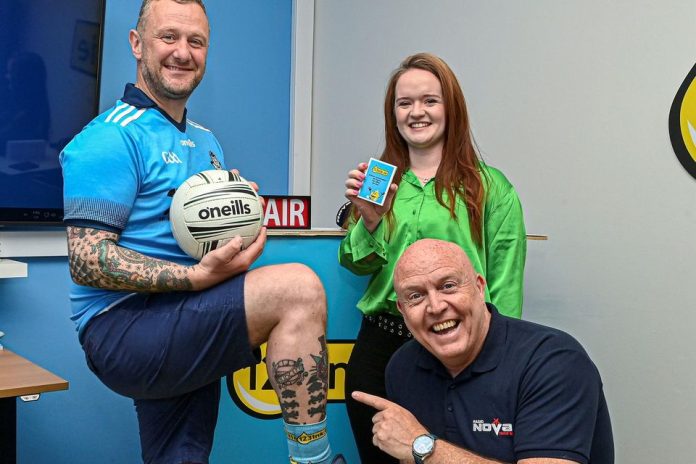 Would you like to listen to the article instead of reading it?
PJ Gallagher has proudly unveiled the location of his new GAA tattoo and a lucky listener has taken away a whopping €5000!
Two weeks ago office supplies company 123ink.ie challenged the co-host of Morning Glory on Radio Nova alongside Jim McCabe, to get a 'Dublin GAA Football Champions 2023' tattoo in exchange for 5K, all broadcasted live on air.
After careful consideration, PJ, a devoted Dublin GAA fan, decided to decline the cash offer.
However, the resilient team at 123ink.ie wasn't ready to give up just yet. Dave Doyle, the commercial manager, returned with an alternative proposal, suggesting a Dublin ball tattoo instead.
Listeners were invited to join in the fun by playing a game of "Spot The Ball" to guess the tattoo's location on PJ's body for a chance to win €5K from 123ink.ie.
Today, the big reveal took place on air as PJ proudly unveiled his fresh ink—a brand new GAA football tattoo on the side of his calf with the word "Dublin" emblazoned across it.
The three finalists, who correctly guessed the tattoo's placement, made their way to the 123ink.ie offices for a live broadcast to reveal who won the coveted cash prize.
Originally from Galway and now a resident of Drumcondra, Fiona Brown was the lucky listener to snag the €5,000 from 123ink.ie. Fiona works in IT at the Mater Hospital, where Radio Nova is played all day in her office. Among her unusual collection of four tattoos is a trampoline inked on her ankle and one of the Thunder Mountain ride in Disneyland.
Fiona's boss and colleagues all took their chances in the 123ink.ie PJ Gallagher tattoo competition, but it was Fiona who struck gold with the lucky call from Nova. Fiona believes it could have been a sign from the universe when the previous night she played with a pack of cards her dad got her, and noticed it was adorned with the 123ink.ie logo.