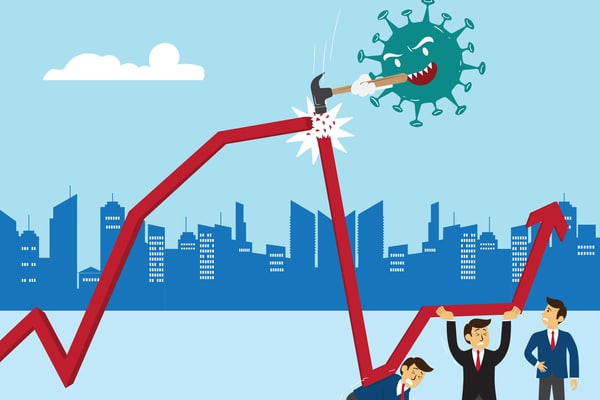 Today the government unveiled its Economic Recovery Plan for mapping out a post COVID-19 future with "enormous damage to be undone". The plan was announced in Dublin Castle and is to include a phased ending to pandemic unemployment payments. Property taxes will also be increasing in the plan which will have an emphasis on the green economy.
The National Economic Recovery Plan contains €3.6bn in spending commitments aimed at workers and businesses badly affected by the pandemic. According to Martin, the plan includes more €3.5bn in spending supports and just under €1bn from the EU's recovery fund.
Micheál Martin confirmed plans from September to phase out the PUP although he insists this is not a signal to austerity. While speaking at the conference, the Taoiseach said the pandemic had a "swift and unprecedented" impact, the largest outside the world wars.
New applicants will no longer be accepted for the PUP from July 1st, with Mr Martin explaining the reason being. The plan is "in recognition of the fact that at that stage, there should be no new job lay-offs directly attributable to public health restrictions". It is confirmed the PUP will be extended in full for existing claimants to September 7th, and then reduced by €50 a week over three phases.
People in receipt of €350 a week will receive €300, those who get €300 a week will receive €250, and so on. People already in receipt of €250 will be reduced to a jobseeker's allowance of €203 per week. The first phase of rate changes will apply from September 7th, provided progress on re-opening continues, with two further phases taking place on November 16th and February 8th.
The Employment Wage Subsidy Scheme is being extended until December 31st, 2021 and businesses may apply for enhanced reopening payments. As restrictions begin to ease under the plans, Mr Varadkar believes we will see the economy "take off like a rocket". The waiver on commercial rates will be extended until the end of the third quarter, with further decision expected in October's budget.
Varadkar believes this summer is one we can look forward to and has promised the business community; "We have your back for the period ahead". The Tánaiste added that more businesses will qualify, as it will now be based on its turnover this year relative to 2019. The 9% VAT rate for the hospitality sector will continue until September 2022, assisting an industry which has been affected by the lockdown.
Mr Martin said the objective of the new plan is to see 2.5 people active in the workforce by 2024. He said there will be a focus on "young people at greater risk of long-term unemployment". The new plan will include a special scheme for the events sector, worth up to €50,000 per company. A loan scheme will also be introduced for retrofitting and insulating houses, with 50,000 new jobs training places to be introduced.
As part of the plan, an estimated 100,000 homeowners will have to pay more in property tax. This includes new homeowners after 2013, who were previously exempt, will now have pay property tax as part of the new plan. People who already pay property tax will see their bill rise by around €100 per annum.
Although opposition parties may be critical, they indicate they will reserve judgment until the full details of the plan is unveiled. They do, however, say they are in support of any measure that helps ordinary people.