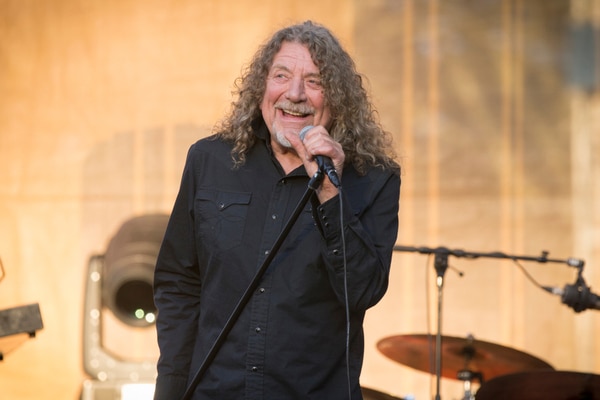 Led Zeppelin's legendary screamer, Robert Plant has a ton of unreleased projects and concert footage that he has now "itemised". Like many people over the last two years, the singer has put his house "in order" and has catalogued quite the collection. Speaking on the Digging Deep podcast, Plant revealed that he has instructed his children to release his musical archives after his death FOR FREE!
Speaking to host Matt Everitt, Plant revealed that he has been sorting through his unreleased music during lockdown. The rocker has organised "all the adventures that I've ever had with music and tours, album releases, and unfinished projects. Just itemised them all and put everything into some semblance of order.
"I found so many other projects that I hadn't quite finished", revealed Plant. "I found some amazing cassettes. I got my cassette world back in shape. So I've got a really good cassette player, renovated everything, tidied a lot of the cassettes. So if you ever want to hear Robert Plant singing with Buggles … it's Bruce Woolley and Robert Plant singing something about the city which ended up with Grace Jones."
Plant continued to describe his haul of memories and revealed that he found these items and would play them back "and some of them are incredible". Robert said he "did some stuff with a guy called Robert Crash", a German guy who had a group called the Psychotic Tanks in New York. The man had apparently also "worked a lot" with Dave Stewart up at Eurythmics studio.
"I did some stuff with him round the corner from here in Paddington or somewhere, in his room," Plant explained. "It's insanely brilliant because it's like 1984, huge Oberheim computers belching out this huge bottom end with this mad German dressed in a plastic mackintosh tied at the waist, with spats, doing this weave round the room playing a Stratocaster. And it's just great. It really is the other side of David Byrne."
"I don't care what happens to it," Plant said of his archive, "it's great to hear it again."
Plant features in the newly released documentary, Rockfield: The Studio on the Farm to celebrate the legendary recording studios. The Led Zeppelin singer joined fellow rockers, Ozzy Osbourne, Liam Gallagher, and more, to reveal stories from recording sessions that inspired their bands to achieve true greatness.