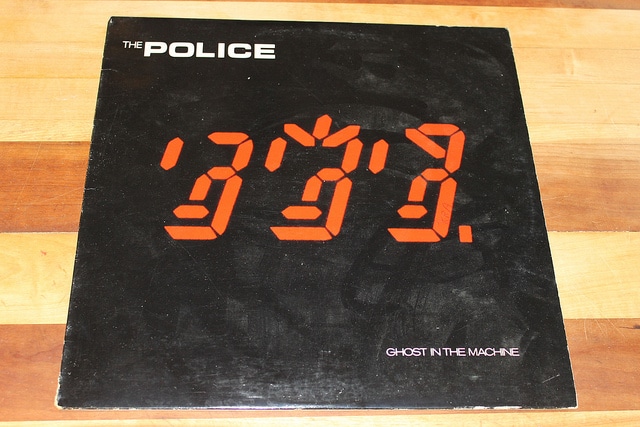 Ghost In The Machine is the fourth studio album released by the British new wave rock band The Police. The album was released on 2nd October 1981 and went number one around the world.
The Police were founded in 1977 in London, England. The band comprises of bass player and vocalist Sting (born Gordon Sumner), guitarist Andy Summers and drummer Stewart Copeland. They started in London in the middle of the booming punk scene but with interests in art rock and reggae, the band were determined to stand out from the crowd.
They became big in the charts with their first three albums Outlandos d'Amour, Reggatta de Blanc and Zenyatta Mondatta thanks to songs like 'Roxanne', 'Message In A Bottle' and 'Don't Stand So Close To Me'.
The album proved yet another huge success for the band. Upon release, the band had hits with 'Every Little Thing She Does Is Magic', 'Spirits In The Material World' and 'Invisible Sun'. The band also had a sleeper hit when 'Demolition Man' was chosen as the theme song for a Sylvester Stallone film of the same name.
The album went on to sell very well worldwide. Ghost In The Machine went number one in six countries and sold 3 million units in the US.
Track Listing:
Side One:
1 – Spirits In The Material World
2 – Every Little Thing She Does Is Magic
3 – Invisible Sun
4 – Hungry For You (J'aurais Toujours Faim De Toi)
5  – Demolition Man
Side Two:
1 – Too Much Information
2 – Rehumanize Yourself
3 – One World (Not Three)
4 – Omegaman
5 – Secret Journey
6 – Darkness
Photo Credit: acme401