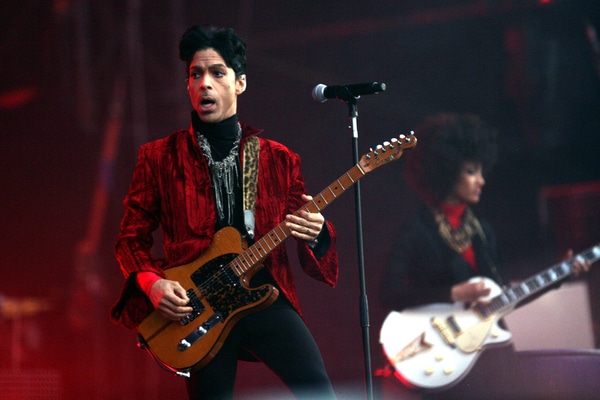 The estate of Prince is engaged in a legal battle with a winery over the use of the label "Purple Rain."
Ohio based winery L'uva Bella includes a "Purple Rain Concord" wine among its roster. In 2019 it was awarded the Purple Rain trademark, but Prince's estate demanded it remove the label from its catalogue.
The estate of the late musician cited a "likelihood of confusion" and accused L'uva Bella of profiting from a "false suggestion of a connection" with Prince.
In a new defence, L'uva Bella claims that due to Prince being famously teetotal, consumers would not link their wine to the artist.
"To the extent Prince was famous, he was equally famous for his disdain of alcohol," a filing by L'uva Bella's lawyers states. "Prince was a teetotaler who despised alcohol. Prince never lent his name to any product or enterprise during his lifetime, and never endorsed or promoted any products, let alone any products bearing the name 'Purple Rain.' The fans of Prince, knowledgeable about his beliefs and views, would never associate an alcohol-containing product with the artist."
Prince's estate had asked the US Trademark Trial and Appeal Board to grant their cancellation without a trial.
"The estate protects the intellectual property Prince created during his lifetime, including his image and the trademark 'Purple Rain,' which is strongly associated with him," Prince's estate wrote in a statement. "Comerica, as the court-appointed personal representative [of the estate], has a fiduciary duty to protect the estate's intellectual property and brought this proceeding pursuant to that duty. 'Purple Rain' is Prince's most famous song, album, tour, movie, etc., and there can be no doubt that 'Purple Rain' signifies Prince. Prince is also undisputedly one of the most famous musicians of all time."
An unreleased Prince album is set to be released this year.
Recorded in 1986 under Prince's feminine alter-ego Camille, the album is set to be released by Third Man Records, who received permission from Prince's estate.
"We're finally going to put it out," said Third Man co-founder Ben Blackwell. "Prince's people agreed – almost too easy."
Most of the eight tracks on Camille have been released in some form, but this will be the first time they've been made available together.
The track listing is:
Rebirth Of The Flesh
Housequake
Strange Relationship
Feel U Up
Shockadelica
Good Love
If I Was Your Girlfriend
Rockhard In A Funky Place