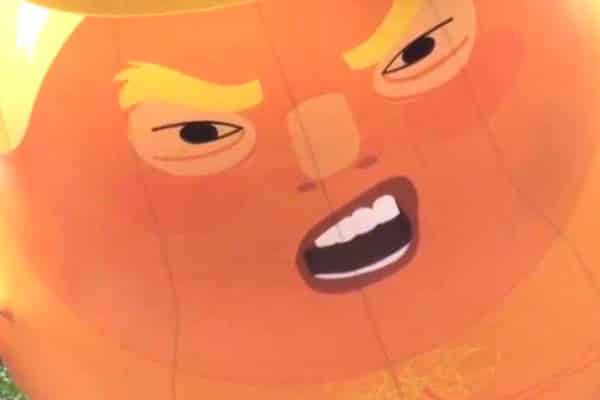 Protesters this evening in Dublin hoisted the "Trump Baby" inflatable blimp that is now a staple of rallies against the U.S. president Donald Trump, who was due to spend a second night at his golf resort in Doonbeg, Co. Clare.
The six-metre high blimp, which depicts Trump as a snarling, nappy wearing orange baby, was a rallying point for thousands of anti-Trump protesters who packed central London on Tuesday and tens of thousands who protested against the commander-in-chief last year.
Organisers expected around 1,500 to attend the rally which is taking place at the Garden Of Rememberance on Parnell Square.
The billionaires brood join him on many of his trips and sons Eric and Donald Jr. received a rapturous reception from locals in the pubs of Doonbeg in west Clare where Trump stands alone as a virtual deity for keeping locals in jobs at his Trump International golf resort.
The chip of the old block couldn't pull a pint of a plain to save their lives but have lost since won the hearts of the men, women and children of the parish of the 'long village.'
Following a pomp-filled state visit to the United Kingdom, the leader of the free world and his wife Melania flew to Normandy in France for the 75th anniversary of the D-Day landings today that helped bring World War Two to an end, before flying back into Shannon airport prior to enjoing a second night of hospitality in the 'Banner county.'