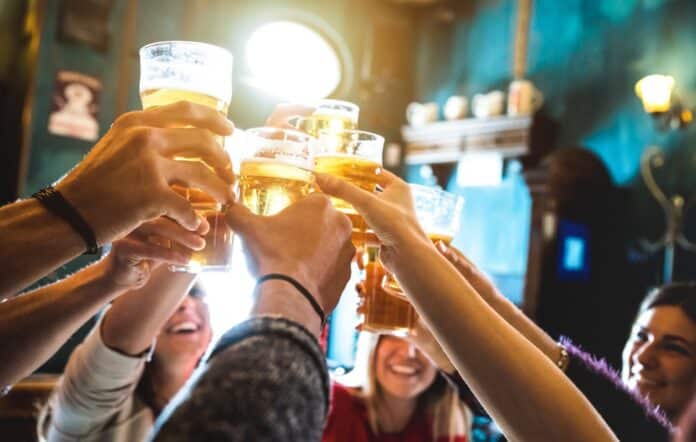 Publicans are demanding that beer gardens re-open next month. This comes as some pubs have now been shut for 400 days since the pandemic first struck in March 2020.
Since 15 March 2020, pubs not serving food have been shut due to the rules that a €9 meal must be served with a pint.
Dublin publicans have also been urged by the Licensed Vinters Association to get in touch with local politicians today, to demand that beer gardens are allowed to re-open from May 24.
Publicans are also demanding that hospitality re-open for outdoor service from that date.
This comes after it was announced that pubs and restaurants will re-open from May 24 in Northern Ireland.
Traditional Pubs "Marginalised" – LVA Boss
"Traditional pubs across the country have had it harder than other forms of hospitality and the traditional pubs in Dublin were even more marginalised as they haven't opened their doors for the last 400 days and counting", said the Vinters Association boss Donal O'Keefe.
Mr O'Keefe continued, "We believe this unjust segmentation has to stop. As we reach this unfortunate milestone we are launching a call to action and urging all our members to contact their political representatives".  
The LVA boss also had this say.  "They should press for the reopening of the hospitality sector to begin with outdoor service for traditional pubs, gastropubs, restaurants and hotels from late May".
"This matches up with the timeframe outlined by NPHET for social contact to remain unchanged and also for the further rollout of vaccines". 
"Hopeful and optimistic"
This also comes after Minister for Higher Education Simon Harris said that the Government needs to gives businesses like pubs a clear pathway for the next few months.
He also added that he was "hopeful and optimistic" about the Covid-19 situation in Ireland. This comes as the lowest number of ICU patients since last September was reported yesterday.
Mr Harris even hinted that the Government could fast track the lifting of more restrictions in May. Harris said that the focus could be on easing restrictions on outdoor activities.
"Things like outdoor dining and the likes, I'm not in a position to give a definitive view on it but I think we need to start answering those questions next week", he said.
"I think there might be the potential to do a bit more in May", Harris added. "For example, at the moment you can meet up outdoors with one household, is there a possibility to do more in relation to that?".
"We're gonna see things like golf and tennis and kids training come back later this month", he remarked.
Simon Harris also added that the Government will look to re-open retail, construction and hairdressers next month. A point that was also shared by Táiniste Leo Varadkar last week. More on that here.