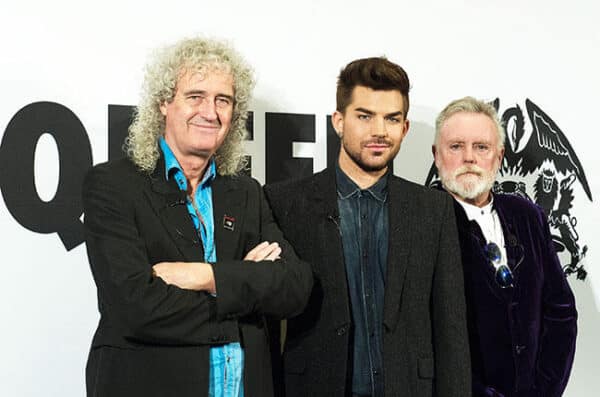 Roger Taylor has confirmed that his band Queen and singer Adam Lambert's concert film: Live Around The World is available to rent or download from this Friday! (29th Jan). It also includes some wonderful performances from the legendary Brian May.
The film includes the same tracklisting as the CD. In addition to this, the film includes, a father and son "Drum Battle" between Roger and Rufus Taylor. It also includes icon Brian May's "Last Horizon" guitar solo. Exciting!!
Drummer, Roger Taylor annouced this on his Instagram account. He wrote, "Coming soon… Queen + Adam Lambert 'Live Around The World' the Concert Film, available to Download or Rent!". 
It also includes Brian May performing "Love Of My Life".
 "Love of My Life" on Queen's 1975 album
"Love of My Life" was written by Freddie Mercury and had originally appeared on Queen's 1975 album, "Night at the Opera". Brian May said that out of all the songs he performed, it  was the one where he felt closest to Freddie Mercury. Former Queen singer, Mercury passed away in 1991.
"Well it has to be Love of My Life" May observed.
On performing the track today, May said,  "I have my solo spot, which is a moment where I really climb off my pedestal and get close to the audience; which I love to do".
May also added, "It's nice to be rock star zooming around on stage, but it's lovely to do the opposite and go down and be very intimate". 
May continued, "So I can do anything I want there; loads of my own songs I could play, but the one I always want to play is Freddie's Love of My Life".
"The way we've arranged it recently…it's very strange, it's very emotional doing it I have to say".
He also said, "I'm sitting there on a stool and in the old days it would have been Freddie right beside me, while I play acoustics".
"We have a moment"
Brian May talked about how he plays that track on an acoustic guitar while singing. He then shared something interesting about how his former Queen bandmate Freddie's memory still shines brightly with him.
May explained how during a concert performance, a virtual Freddie appears on a screen behind Brian to sing the last verse of "Love of My Life". 
May said, "It's just a beautiful moment, I love it so much". 
"By that time the audience have lit up all their phones and we have a moment".
He also added, "The crowning glory is Freddie coming on and tying the whole thing up with a great sense of humour as he always did have, which I think is the icing on the cake. And then he's gone and that's it".
Click here to see Brian May and Adam Lambert perform "Show Must Go On".
And here for Queen and Lambert singing "Somebody to Love". 
Adam Lambert talked about performing with Queen last September.