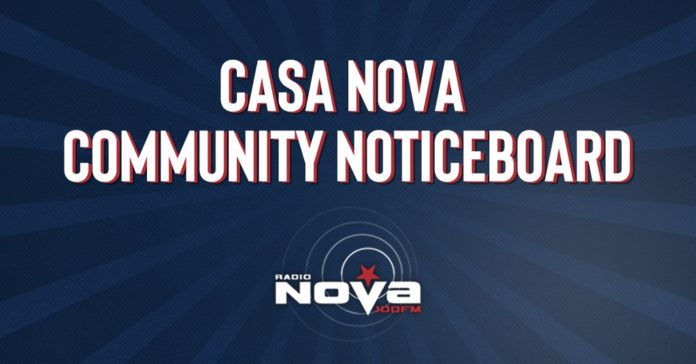 CASA NOVA is a community noticeboard on Radio NOVA.
An invitation to you to get in touch and tell us about an event, fundraiser, online class, or community initiative happening in your area.
Whatever it is, we want to know!
Just email us the details at: [email protected]
It's all part of Radio NOVA's 'Road To Well' offering support to those who need it most.
MAY 
St. Anne's City Farm is now open to the public in a reduced capacity and under strict health and safety protocols.
Animals, staff and visitor safety is paramount at the farm and they are extremely grateful for your support.
Mornings on the farm are for visitors to come meet the animals. 
Feel free to follow the one way system around the farm and meet all the animals.
Type St Annes City Farm into Facebook for more info.
Dublin Zoo's Outdoor Safari Trail follows a one-way walking route which allows you to see, hear and learn about the animals.
All tickets MUST be pre-booked in advance online.
Tickets will not be sold at the gates. 
More info at dublinzoo.ie
The Harold's Cross Community festival will take place from Saturday 8th until Sunday 16th of May.
Although it is mostly virtual this year – it is one of the most ambitious programmes yet and all the events are provided free of cost.
The festival has been running for more than 10 years and the aim is to continually increase the sense of community.
For more info www.haroldscross.org
The organisers of Darkness Into Light invite you to join Pieta and Electric Ireland at sunrise on 8th May 2021 for Darkness Into Light. 
Take part with your loved ones by simply walking locally and sharing your sunrise. 
Together, we can build a brighter future and give hope to all who have been impacted by suicide and self-harm in Ireland and across the globe.
All donations are in aid of Pieta House, Preventing Suicide and Self Harm .
Creative Schools Week takes place online from Monday 10th – 14th May.
This year's theme 'Brave New Future' was chosen through consultation with children and young people across a selection of Creative Schools.
Creative Schools Week includes both In-School Celebrations and Online Celebrations.More info at www.artscouncil.ie
Excitement is building at the Multiple Sclerosis Society of Ireland because this month The May 50K officially begins! 
The May 50K is a global fitness and fundraising challenge to raise money for MS research worldwide and also support MS Ireland projects and services.
Thousands of people in Ireland have signed to take up in challenge.
To Sign up to run or walk 50kms in May or for more info go to www.themay50k.com