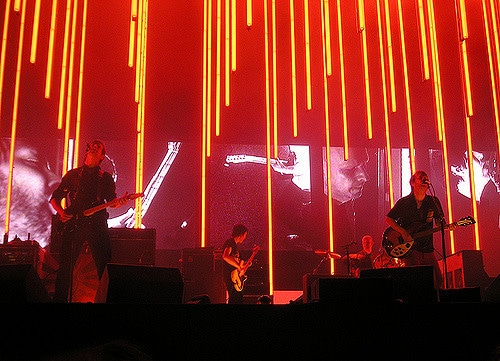 Radiohead's Ed O'Brien has joined forces with Fender in designing a new signature guitar.
The 'EOB Sustainer Stratocaster' is the first ever guitar designed, developed and co-signed with a member of Radiohead. The guitar is a "uniquely designed electronic system that enables the controlled sustain of any single, or group of notes within the guitar's sound range."
The aesthetic detail is well worth mentioning too! The neck plate of the guitar is engraved with custom "Flower of Life" designs, taking the place of a signature stamp. An on/off switch is said to control the 'infinite sustain', along with an intensity knob and a "three-position switch – fundamental only, harmonic only, or blend." The guitar also features a "Seymour Duncan JB Jr humbucker at the bridge."
O'Brien himself has played a Stratocaster guitar for over ten years. There has been no official sale date announced, but you can get a glimpse of it below or in person on tour where Ed O' Brien will be playing his very own!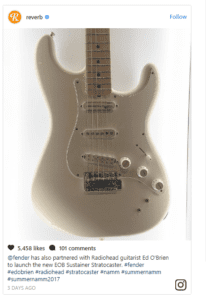 Radiohead have been touring their most recent release 'A Moon Shaped Pool' with support from JUNJUN – which is Radiohead guitarist Jonny Greenwood's world music side project. The tour will be coming to an end in a few days on July 19, which is the date of their controversial Israel gig.
It's been an eventful year for Thom Yorke & Co. who've sold more than 30 million albums worldwide. They have confirmed a brand new reissue of OK Computer to celebrate the LP's 20thanniversary. It was first released in June 1997 in the UK and is widely regarded as one of the greatest records of modern times. Along with the original record (remastered from the original analog tapes), the reissue will also feature three unreleased tracks and eight B-sides.