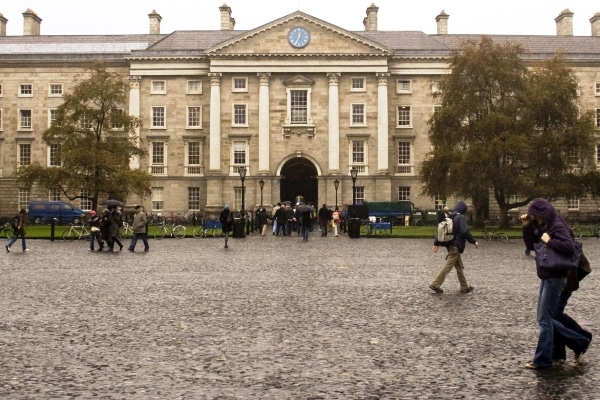 The plentiness of Irish rain proved most helpful in boosting the numbers that viewed the The Book of Kells Exhibition at Trinity College, in the highest visitor traffic days in the off-peak period of September to May.
It rained for seven of the ten busiest days in which the exhibition welcomed almost 80,000 visitors from China, the US and Europe which has earned TCD its place as one of Ireland's top five tourist attractions.
The Book of Kells and Old Library Exhibition is the campus's most famous attraction and total visitor numbers are up 15.5% year on year, bringing the number of guests who have experienced one of the world's oldest and most important medieval manuscripts to 964,000 in 2017 alone.
With 200,000 books, the Old Library is also home to one of the few remaining original copies of the 1916 Proclamation and houses the Brian Boru Harp. In 2018 alone, the exhibition attracted 60% more visitors from the USA, 50% more visitors from Germany and 33% more visitors from the UK compared with the same period last year.
In addition to the Book of Kells Exhibition, the campus offers a variety of attractions. It is also home to the Zoological Museum, which boasts a unique 200-year-old collection over 25,000 exhibits and the Science Gallery Dublin, a hub of creativity where art meets science.