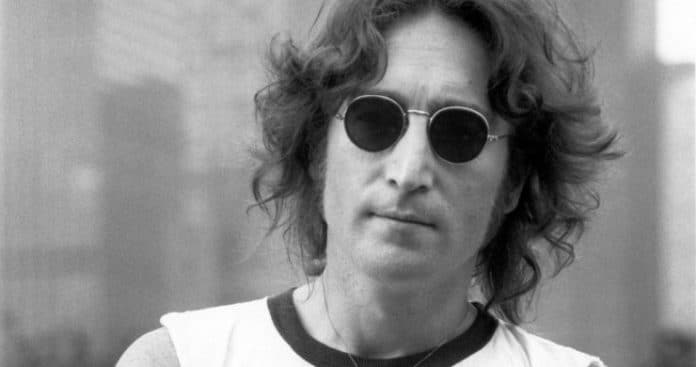 Today (October 9th) marks what would have been John Lennon's 80th birthday. By nightfall, legions of fans will have made the pilgrimage to Central Park's Strawberry Fields in New York City for a day of remembrance, sing-alongs, and celebrations dedicated to the memory of Lennon. Strawberry Fields, a triangular patch of land dedicated to Lennon by the city of New York and named after the Beatles' 1967 hit, sits directly across the street from the Dakota, Lennon's Manhattan apartment building, where he was gunned down on December 8th, 1980 at the age 40.
In a bittersweet turn of events, today is also Lennon and Yoko Ono's son Sean Lennon's 45th birthday — making him five years older than his father when he was murdered. Last night Sean did the honors of flicking the switch, which turned Manhattan's Empire State Building blue in commemoration of Lennon's 80th.
Released today is the new solo compilation, Gimme Some Truth. The set, which was produced by Yoko and Sean, features 36 songs completely remixed from scratch, using brand new transfers of the original multi-tracks, cleaned up to the highest possible sonic quality.
This weekend on Radio Nova we are remembering the man and his music and just by listening you could win a copy of Gimme Some Truth on CD or Vinyl!
We also have a special 1 hour documentary on tonight (Friday) presented by Ruth Scott at 6pm featuring interviews and music. It's a real treat and will be repeated at 2pm on Sunday.
Our Friday Night Live concert presented by Dee Woods at 10apm is the amazing live gig broadcast to celebrate Lennon's 75th birthday featuring performances from Brandon Flowers, Sheryl Crow, John Fogerty and many more.
On Saturday night at 9pm it's the Beatles live from the BBC and on Sunday night at 9pm it's the full 'Love' album. The Cirque de Soleil tribute to the Beatles features the classics remixed by Giles Martin and George Martin.