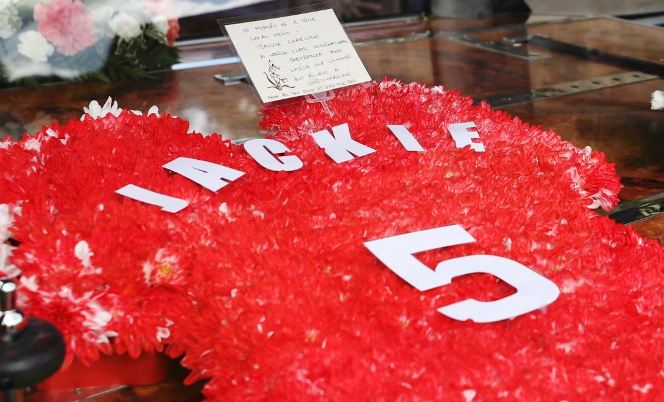 A Republic of Ireland flag was among the many tributes as the funeral of Jack Charlton took place today.
There have been glowing tributes as his funeral took place in his childhood birthplace of Ashington, Northumberland.
'Wor Jackie' as he was known in England's north-east or 'Big Jack' here in Ireland was laid to rest in Newcastle after he died last week aged 85.
Hundreds displayed handmade signs and flags in tribute today, with one reading: "Ashington's favourite son".
Here at home, Radio Nova and all Irish radio stations played 'Put Em Under Pressure' to coincide with the funeral and to pay tribute to the Former Republic of Ireland manager.
Jack Charlton, beloved here in Ireland was of course a key component of Sir Alf Ramsey's England World Cup winners in 1966, along with brother Bobby.
He played as a defender for Don Revie's Leeds United for an astonishing 23 years, man and boy, as a wonderful one club servant. He won FWA Footballer of the year in 1967.
After his playing career finished he went on to manage Middlesbrough, Sheffield Wednesday and Newcastle United.
In 1986 he became manager of the Republic of Ireland football team and led the 'Boys in Greern' to their first World Cup in 1990.
His success in reaching a European Championship and two World cup finals in 1990 and in 1994 sparked scenes of unbridled joy and national pride.
A figure now essential in any reading of modern Irish history. He instilled belief where before there was none and gave credibility to a nation beset by problems and little pride.
He was awarded honorary Irish citizenship in 1996. Jack Charlton died at home in Northumberland on 10th July 2020, aged 85.