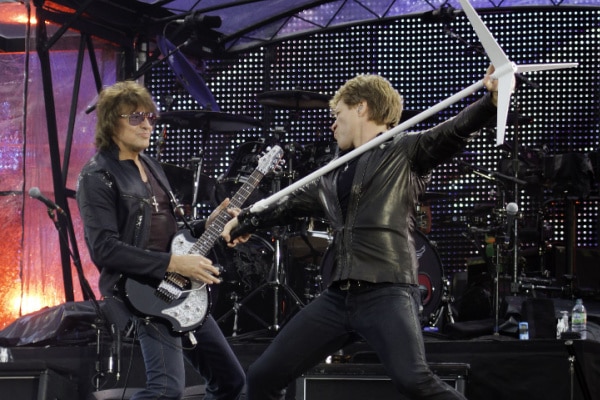 Would you like to listen to the article instead of reading it?
Bon Jovi founding member, Richie Sambora, has said that "it's time" for the band to organise a reunion.
Founding guitarist Sambora, made these comments while speaking about the band, sharing details about upcoming projects, and his hopes of taking part in a reunion.
Sambora co founded Bon Jovi, alongside drummer Tico Torres, keyboardist Dave Bryan, bassist Alec John Such, as well as singer Jon Bon Jovi.
"going to make everybody happy"
Speaking last weekend, Sambora revealed that a documentary about Bon Jovi is also imminent.
"There's a documentary that's being done about the band and stuff that I've participated in, and people want to come see us play. It's going to make everybody happy", Sambora explained. "I mean, essentially, that's why you do it at this point".
On the possibility of a Bon Jovi reunion, Sambora continued, "Yeah, it definitely could happen… It's just a question of when everybody's ready to go do it. It will be a big, massive kind of undertaking".
When quizzed about when fans can expect this reunion to take place, Richie Sambora did admit that he was "not sure", due to everybody's schedules, and opinions on this project.
"It's up to people, it's got to be right. That's all," he said. "It's time to do it, though. This is our 40th anniversary, but I feel younger than ever. I'm having a ball".
The interview also saw Sambora speak of his delight and shock, that songs which he co-wrote with the band, including 'Livin On A Prayer' still resonate with music lovers today.
"People love to go back and hear the scrapbook of their lives," stated Sambora. "And, somehow, I've been a conduit to that very, very luckily – and a lot of hard work too".
In a previous interview, Richie Sambora had said that he was talking to the other members of Bon Jovi over a possible reunion. More on that here.
In other news, Stranger Things star Millie Bobby Brown has insisted that her soon-to-be father in law Jon Bon Jovi will not be performing her wedding to his son Jake Bongiovi, insisting that "the man needs a break".