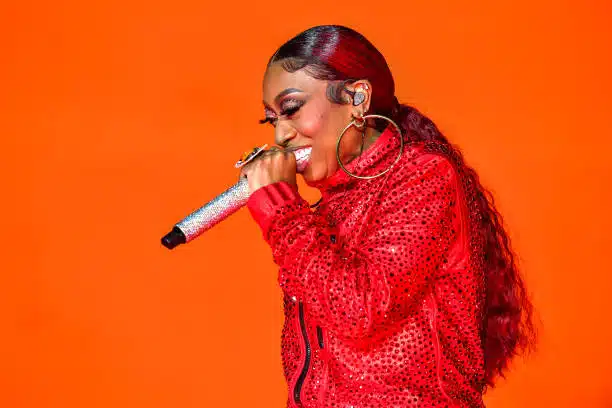 Would you like to listen to the article instead of reading it?
Missy Elliott becomes the first female rapper to be inducted into the Rock and Roll Hall Of Fame at the Barclays Center on Friday night in New York.
Fellow rap star and actress Queen Latifah will introduce her during a live ceremony in Brooklyn later.
Other inductees include Willie Nelson, Kate Bush, Sheryl Crow and Rage Against The Machine.
Missy says her mother will also attend, which is a rarity. "My mother has never been to any of my performances ever in life — and she's coming," Elliott has told The New York Post.
"[It's] only because of me, though. I always be like, 'I don't want to be sexual in front of my mother.' She's a church lady. I don't want to do, like, 'One Minute Man' in front of her. I would be too nervous."
But for Friday night's ceremony, the rapper, singer, songwriter and producer Elliott is finally ready to make an exception: "I'm like, 'Mama, just come on — you just gon' have to close your ears!' "
Elliott is certainly doing her mother proud with her induction into the Performer Category alongside Kate Bush, Sheryl Crow, Rage Against the Machine, the Spinners and the late George Michael.
"When they tell you you're nominated, you see a long list of people," she says. "What are your chances? Because you're looking at the list, and these people are people that you have looked up to, and they have been around longer than you have. So you're like, 'Aw man, why they do that?' "
Elliott made the final cut on her first nomination. "When you hear those stories of people who have been up so many times and still haven't gotten in … it's just a blessing," she admits.
When Elliott looks back on other career highlights since she made her groundbreaking debut with 1997's "Supa Dupa Fly," the 2015 Super Bowl is right at the top of the list.
Her performance as Katy Perry's special guest was a triumphant comeback after being diagnosed with Graves' disease in 2008.
"I was in a place of second-guessing maybe … because mentally I was dealing with things,"
She added "And I got so much love at a time that I felt like I needed it the most."
Now the Work It rapper will be standing on the shoulders of the female MCs who inspired her including Salt-N-Pepa, Roxanne Shanté and MC Lyte — in the Rock & Roll Hall of Fame.
"Those girls impacted my life and made me want to get in this industry and do what they do because I just was like, 'Wow, they're amazing,' " says Elliott.