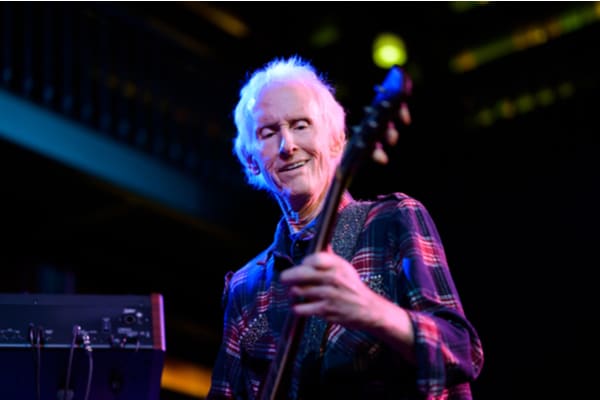 It has been confirmed that the Doors' Robby Krieger has finally published his memoir.
The rocker had first announced his plans for a memoir back in July.
Set The Night On Fire: Living, Dying, And Playing Guitar With The Doors, is to explore the legacy of the Doors, as well as their mythological career. Kreiger had written Doors tracks like "Love Her Madly", "Touch Me" and "Love Me Two Times". He also co-wrote "Light My Fire" with the legendary Jim Morrison.
An official statement said, "Krieger also goes into heartbreaking detail about his life's most difficult struggles, ranging from drug addiction, to his twin brother's mental breakdown, to his own battle with cancer".
"Never got round to publishing it"
In a new interview with Billboard, Krieger revealed that he first began writing this memoir over 20 years ago. He said that he just "never got round to publishing it".
"I started it, like, 20 years ago and just never got around to (publishing) it", he said.
Krieger also sighted memoirs that had been published by former bandmates of The Doors including John Densmore's two memoirs of Riders of the Storm (1991) and The Doors: Unhinged (2013), along with the late Ray Manzarek's book Light My Fire (1998), as reasons that put him off the idea of writing his own.
These memoirs led to bad blood as they "put each other down in their books, and it ended up leading to a lawsuit (between Densmore and the others)".
Krieger also said that this led him to putting his memoir plans "on hold".
He also added, "I had a good outline…and then the pandemic hit and I had some time on my hands and I found a good guy to help me (co-writer Jeff Alulis) and we finally got it done. I just wanted to tell my version of everything and try to clear up things that were in other books or in The Doors movie and just give my slant on everything, which I hope is closer to the truth".
"Big brother"
In this memoir, Kireger was also eager to replace Jerry Hopkins and Danny Sugarman's best seller from 1980 as the real truth teller of all things about The Doors.
While accepting that the book was crucial in reviving the band's popularity, Krieger says he regrets the fact that the book only creates an image of the band and in particularly the late Jim Morrison which is only partly true.
Kireger also hopes that Set The Night On Fire will paint a much more balanced picture of Morrison, who Krieger described as a "big brother".
"Y'know, Danny was a kid that hung around in our office back in the day", Krieger said. "He was a total Doors freak, and I think he had his own ideas about what happened and various situations. Danny kind of put his own words into it, and what really annoyed me was that he tried to make Jim sound like was talking through Danny, and it wasn't the way Jim really was".
He added, "Jim wasn't this crazy a–hole all the time, y'know?".
"That's how people think of him. But somebody who can write words like he did is not an a–hole — not all the time, anyway. So I wanted to correct a few of the things that were in the movie and in the other books — a lot of things that never happened".
Krieger will promote this memoir through a series of virtual events. His own band will also hit the road on Oct 29 at the Suffolk Theater Riverhead N.Y.