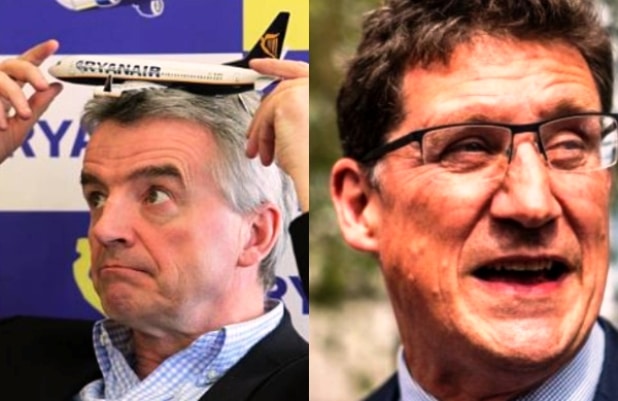 Ryanair group CEO Michael O'Leary has had enough of the 'incompetent' Minister for Transport after Dublin Airport's suffered its SIXTH drone disruption this year.
The outspoken aviation figurehead has told Newstalk that Minister Eamon Ryan is "simply incompetent" while urging him to "take down the bloody drones" that keep grounding flights.
"We cannot for the life of us understand why Eamon Ryan won't act on this issue other than he doesn't like aviation, other than he doesn't like the fact we live on an island on the edge of Europe," he said.
It is illegal to fly a drone within 5km of the airport. DAA said the drone was spotted at 6.27pm (Thursday 2 March), forcing the airport authority to immediately shut down the only functioning runway for safety reasons.
Flights resumed around 7pm after the short delay, Dublin Airport confirmed.
Three flights had to be diverted yesterday, two to Shannon and one to Belfast – before returning to Dublin afterwards.
Ryanair boss Michael O'Leary was furious 500 of his passengers had to be inconvenienced yesterday.
The Public Expenditure Minister Pascal Donohoe and Minister for Justice Simon Harris have both said today the Government will take any steps it needs to in order to deal with this issue.
The Ryanair chief said three of the airline's planes were diverted to Belfast and Shannon due to yesterday's disruption and the solution is as simple as investing €100,000 into "drone-disabling technology."
"Most of our airports across Europe, you have, effectively, a kind of a laser gun or an electronic gun that disables the drone," he said.
"It is operated by two people – one with a laptop and one with a laser gun – so actually you can identify who is operating the drone.
"It is the airport police on the airfield that can actually take down these drones.
"That eliminates the issue. It also protects the safety of passengers and flights and for five or six weeks, unfortunately, in Ireland, we have had a transport minister who is not taking action on this very cheap and effective initiative.
"He is holding meetings and more meetings and meetings about meetings instead of taking action.
"If he won't take action on this today, he should resign."
Mr O'Leary slammed the disruptions as "unacceptable," especially to an island that depends on aviation "to be able to connect to the UK and to Europe."
"It is literally waffle, more waffle and no action. It is time for action or get somebody competent to do this job because Minister Ryan is simply incompetent."
He added: "[Minister Ryan] rightly says this is a criminal offence. Let's stop pandering to the criminals. Let's take down the bloody drones. It can be done and is being done in every other European airport – why not Dublin?"