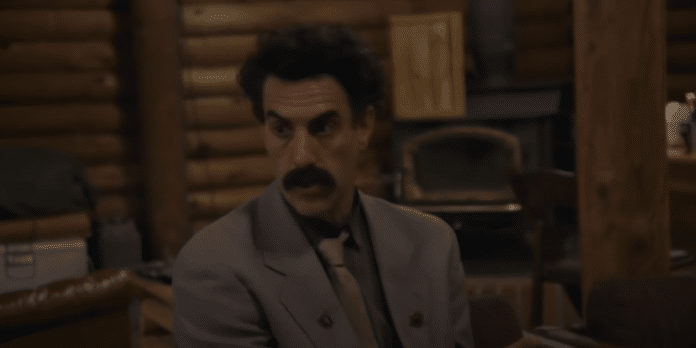 Borat actor, Sacha Baron Cohen has donated $100,000 to the church of a woman who featured in his latest film thinking it was a real documentary.
Jeanise Jones plays the role of babysitter and mentor for Borat's daughter, Tutar. Jones believed that her church, Ebenezer Missionary Baptist Church in Oklahoma City had arranged for her to look after Tutar.
Jones didn't know that Sacha Baron Cohen and Maria Bakalova were actors until the film was released on Amazon Prime Video last month.
'Borat Subsequent Moviefilm: Delivery of Prodigious Bribe to American Regime for Make Benefit Once Glorious Nation of Kazakhstan' is the sequel to the first Borat film. The new one sees Borat travel America with his daughter, Tutar. His goal in the film is to offer his daughter as a bribe to vice president, Mike Pence. You can read more about the film here.
Speaking to local press, the senior pastor for the church Derek Scobey told the media that Cohen made the donation last week and that neither he or his church members were aware of the film.
After the movie, many people across social media praised Jones for her role in the film. She is seen as the moral compass of the movie. Her kind hearted nature and positive outlook is on show in the film and works well with outlandish behaviour from Borat and Tutar.
Jones has not seen the movie but said that one of the producers called her after the release to check on her. She also admitted to having a phone call with Baron Cohen that was "enlightening".
Pastor Scobey has started a GoFundMe account for Jones as she lost her job due to the pandemic.
The new Borat film has been met with mixed reviews. The laughs are great in the film but are not consistent. However, the film comes at a time when we could all use a laugh. Kazakhstan, Borat's home country has decided to celebrate the fictional character in a tourism campaign. The tourism board has adopted a new slogan based on one of his catchphrases. 'Kazakhstan. Very Nice!' reads the new slogan.
Donald Trump recently called Sacha Baron Cohen a "creep" for the stunt the actor played on Trump's personal lawyer, Rudy Giuliani.
In response to Trump, Cohen replied "Donald—I appreciate the free publicity for Borat! I admit, I don't find you funny either. But yet the whole world laughs at you. Cohen went on to add "I'm always looking for people to play racist buffoons, and you'll need a job after Jan. 20. Let's talk!" 
For more on the war of words between Cohen and Trump, you can Radio Nova's report on it here.
However, the character of Borat recently came out and defended Giuliani. You can watch his defence of the lawyer below.
OFFICIAL STATEMENT FROM BORAT SAGDIYEV pic.twitter.com/vM92Lam5vV

— Borat (@BoratSagdiyev) October 23, 2020