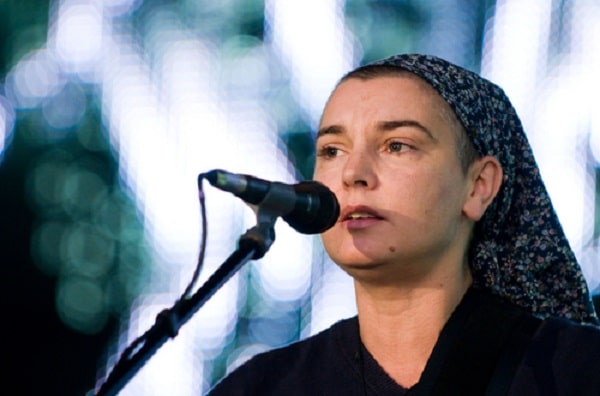 Sinéad O'Connor revealed that she became friends with famous actor Daniel Day-Lewis. But she admitted ruining the friendship after losing her temper.
The 54 year old singer who recently released her memoir "Rememberings", revealed that she named her song "A Perfect Indian" after Daniel Day-Lewis, as he was filming The Last of the Mohicans when they met.
The song A Perfect Indian runs like this, "A perfect Indian is he, remembering him life is sweet, like a weeping willow, his face on my pillow, comes to me still in my dreams".
Sinéad also sings, "He's shy and he speaks quietly. He's gentle and he seems to me, like the ­elf-arrow, his face worn and harrowed, is he a ­daydreamer like me".
Speaking about her friendship with Day-Lewis, O'Connor said, "People think we had an affair but we never did".
"A crazy way"
Sinéad added that the friendship was ruined when she lost her temper with the In The Name Of The Father star. She put the incident down to one of the side effects of her childhood.
"We were getting very friendly until I blew the friendship by losing my temper with him one night in a crazy way that I do sometimes, one of the effects of my childhood unfortunately", she revealed. "So the song (A Perfect Indian) is as much about my upbringing as it is about Daniel".
The singer talks about Day-Lewis in her recently released memoir "Rememberings".
"It's not that I was in love with him (I wasn't) but I was very fond of him as a friend", she wrote. "We're still very fond of each other, though I've seen him once in the last maybe
25 years".
"Rememberings"
As well as her friendship with Day-Lewis, O'Connor talks about her experiences of being attacked by Prince around the time that she achieved success with "Nothing Compares 2 U".
She also addresses rumours that she turned down John F Kennedy Jr, son for former President John F Kennedy. Other runours included that she dated Red Hot Chilli Peppers star Anthony Kiedes.
On the alleged rejection of Kennedy, O'Connor wrote, "Great anecdote but I never met the man. I would've leaped on him like a monkey had I met him, the same as any other woman would".
On her rumoured relationship with Kiedes, she said, "He says we had some type of romantic relationship. Only in his mind".
O'Connor also talks about getting into a car chase with a "kuncklehead" guy who was seeking to sell a revealing photo of her, taken on her Ipad by an ex friend.
"But she did, she's the only one who'd been at my iPad. He's very sorry. So he says. And he will dump the photo. I never hear another word about it".
"Ain't the first time she has used me for money", she said. "It makes me very sad. She's always stealing stuff from me. It would actually break my heart if it weren't broken already".
Sinéad for Eurovision?
Sinéad O'Connor's recent tweet that she would love to represent Ireland at Eurovison sparked heated debate online.
On O'Connor's potential participation in the song contest, former Eurovision Guru Julian Vignoles gave it his seal of approval.
"I think Sinead won't come last for Ireland in her semi-final. We'd be in the final", he said.